PSA
Upcoming Events
With a little over a week of school left there are still a lot of fun activities for the children to take part in. Without the usual Christmas fair, hopefully we can still have a cheerful spirit for the last days before the holidays!
DOUGHNUT SALE TODAY!
A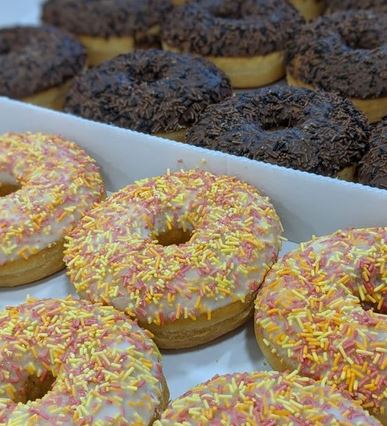 fter school in the KS1 & KS2 playgrounds we'll have a doughnut sale by donation with prepackaged doughnuts to take home.
We are very grateful to Lucy S. and Derek for their generous donation of doughnuts.
BOOKS!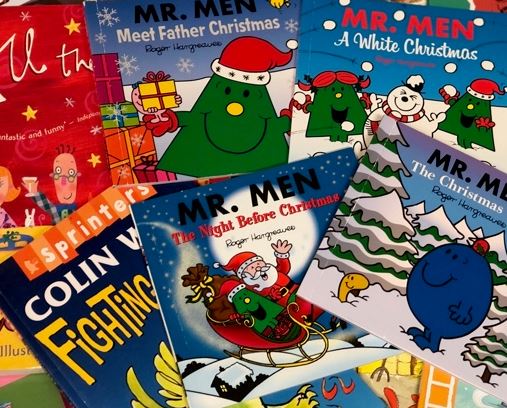 Please bring in your new and used (but good condition) children's books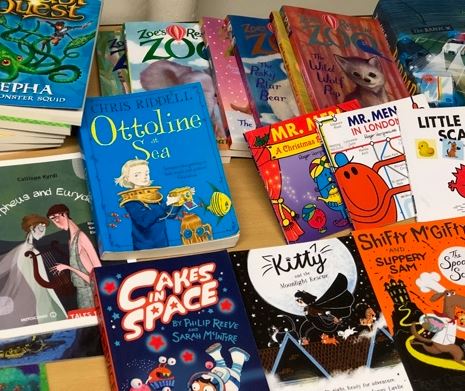 There will be a £1 book sale next week. It will take place in pupils' classrooms during school hours. The date will be announced soon.
SILENT AUCTION PICK UP
After the success of the auction, there are lots of lovely things to collect for the lucky bidders! They can be picked up at the front office at any time. Please ask for help from Miss. Gavin.
WEDNESDAY, 16th December
MUFTI DAY! (and Christmas Lunch)
Please send your children to school in a fun outfit (not uniform.) This can be Christmas themed or just something they enjoy wearing.
Can the children also bring along a box of chocolates or a bottle of wine? Thank you!
There will be stalls in the KS1 & KS2 playgrounds (or by the front office in case of rain) we'll have stalls with our new Christmas surprises.
FRIDAY, 18th December
After school in the KS1 & KS2 playgrounds, we are hoping to organise Tombola and Christmas accessories sale with music and to have fun as much as possible. Please follow us next week for further information.
THANK YOU!
We spent a great week with our lovely volunteers and Miss. Gavin's positive support on the Christmas market. Special thanks to Alex and his fantastic family from Reception Class, Nihan, Vlad & Tatyana and Alex from Year 1, Samta, Christina and Habab from Year 3, Lucy S. Rebecca, and Louise from Year 4.
We are looking forward to getting volunteers from other classes to share the last week of term.
Thank you to everybody, especially to Debbi and Emma, who put in so much hard work organising and donating goods and skills for the silent auction! This year has been a tough one for local businesses, but some have been very kind donating items for the auction or sponsoring the sales. Please be sure to mention Darrell if you visit or use the service.
Here are some of the local and virtual businesses that have helped:
Alan Connor - The Shipping Forecast Puzzle Book https://www.penguin.co.uk/
Cafe Torelli - Cafe in Kew Village
Camp Beaumont - Holiday camp https://www.campbeaumont.co.uk/
Debbi Marco - You're Amazing Book https://www.hive.co.uk/
Lidl - Grocery store https://www.lidl.co.uk
Lush - Handmade cosmetics https://uk.lush.com/
Mia Wood - Boutique in Kew Village
Nature's Choice - Fresh food delivery http://www.natureschoice.shop/
Pether of Kew - Butcher in Kew Village
QBru - Cafe on Kew Road
Smiggle - Stationery and bags on Richmond High Street
Starbucks - Cafe in Kew Village
The Kew Gardener - Garden shop in Kew Village
The Phoenix - Children's comic https://www.thephoenixcomic.co.uk
The Santa Experience - http://www.santatheexperience.com/
The Shoe Station - Children's store in Kew Village
The Upper Scale - Fish home delivery service https://theupperscale.co.uk
The Good Wine Shop - www.thegoodwineshop.co.uk
Kew Green House- www.thekewgreenhousecafe.com
Nicolas Wine House- www.nicolasuk.com
Twinkl - Educational resources for home learning http://twinkl.co.uk
Venwood Hair & Beauty - Salon on Sheen Road