PSA
It's Christmas time!
Christmas Silent Auction 2020
If you're looking for last minute presents, check out Darell's Christmas Silent Auction.
You'll find top of the range beauty products to books, festive bottles of fizz and spirits, as well as some fabulous homemade items donated by talented Darell parents, not to mention Miss Helen's famous Christmas cake. There really is something for everyone.
All items are brand new (unless stated otherwise).
The auction opens on Friday 27 November at 8pm and ends on Sunday 6 December at 8pm.
Keep checking in as new items are added as the week goes on.
Don't forget all the money raised will go towards ICT equipment.
Visit https://www.jumblebee.co.uk/darellchristmasauction2020 and get bidding!
We are aiming to purchase a class set of micro:bits for KS2 computing lessons and the code club we are planning to run from the summer term onwards (COVID permitting)
and a class set of these programmable robots for KS1 and EYFS
https://www.tts-group.co.uk/Rugged_Robot_Features.html?
Darell Coins
Are Ready For Sale!
Running out of cash? Looking for a safe way for your child to interact at school sale activities? From now on, Darell will have their own optional school currency.
Get 10 Darells for £11 or 5 Darells for £5.50.
First coins come in a money bag.

Payable over Classlist or at reception. Coins will be delivered to your child in classroom.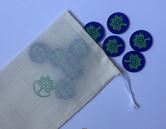 Many thanks to Samta & Chris for making this happen!
Get inspired by our Darell Christmas Market 2020!

During December you will have the opportunity to buy Christmas Crafts and Treats, which are carefully selected and prepared for you to buy at the pick-up time on both playgrounds!
We'll start with Xmas Craft Sale on Thursday, 3rd of December.
On Friday, 4th of December will be a Cake Sale on both playgrounds.
Please bring some coins, get creative and enjoy a delicious piece of cake!
Christmas is coming soon!

Donations:
We kindly ask for donations

- Chocolate or wine
- Books - the book should be for children between 4-12 years, either new or used, but should be in a good condition.

Donation boxes will be in each playground. Alternatively, you can drop them also in reception.

Wishing you all a wonderful Christmas time!

Your PSA
Christmas Artwork!
Hi all,
I'm sure lots of you are online Christmas shopping at the moment! Don't forget it you haven't already checked out your child's artwork at https://mychildsart.co.uk/order/home/ please take a look!
Username: Darell
Password: sx6dA72S
As well as Christmas cards, there's lots of other great products you can have your child's artwork printed on!! This is a great opportunity to Christmas shop and fundraise for Darell at the same time!!
Orders will be shipped direct to your home which we feel is much safer in current circumstances.
Just to reassure, no child's name is displayed in full online. You will be able to find your child's artwork when you search their name.