Sunshine Class (Reception)
Click here to view Reception Class Curriculum Newsletter
Show and Tell Summer Rota 2018
---
Pensford Field trip
To begin our engagement with minibeasts, we went on a local trip to the wildlife area of Pensford Field, in Kew. The children walked there and, in their groups, undertook small writing and drawing tasks to help support their learning back in the classroom. To see more photos go to the Reception gallery.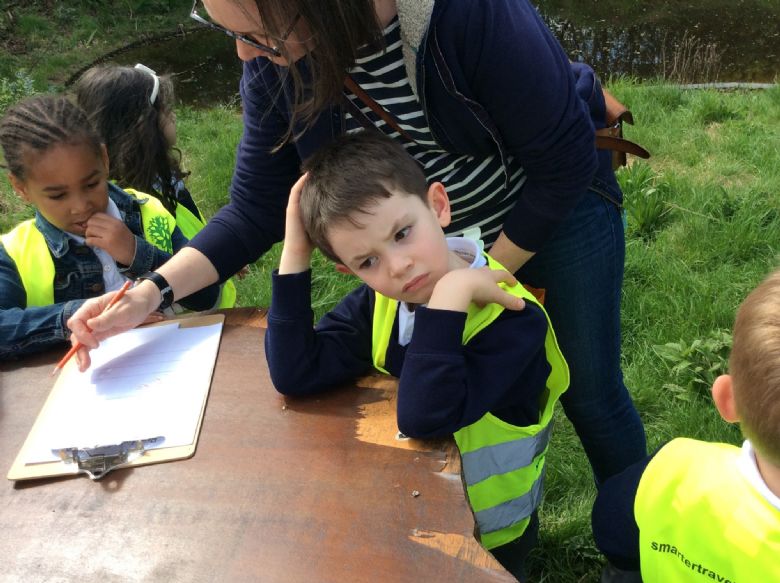 The Easter Bunny comes to Reception
Reception had a delivery of eggs today. There was a knock at the door and some children caught a glimpse of his ears. The children discovered he had left a trail of eggs and empty bags. The children put the eggs all in one basket. Afterwards some children wrote thank you letters to the Easter bunny; hopefully he might come back during the holidays to read the letters.
Please go to the gallery to see more photos.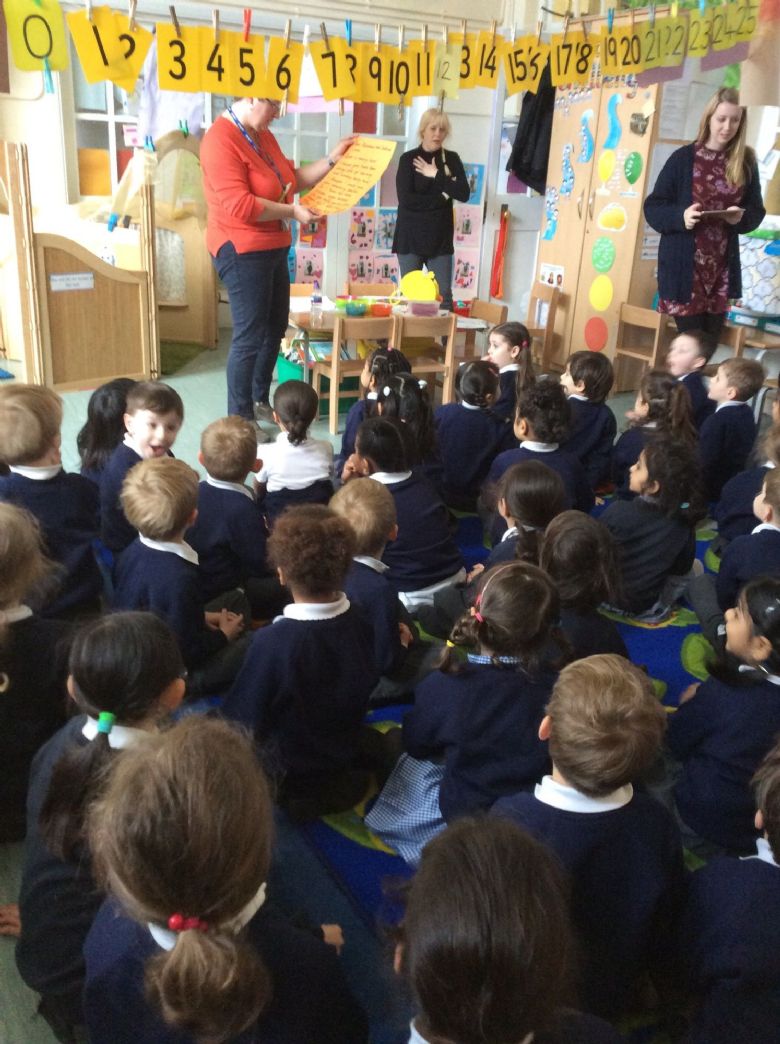 The chicks have hatched in Reception!
The chicks have hatched and they are growing bigger every day! The children have loved watching them hatch and seeing the changes as they grow. We were all on 'egg watch!' for the first week, and then 'chick watch!' this week to see how the chicks are growing. We drew pictures and wrote about what we saw each day! The children have also been doing some great independent writing for their chick diaries! Take a look in the photo gallery to see more photos.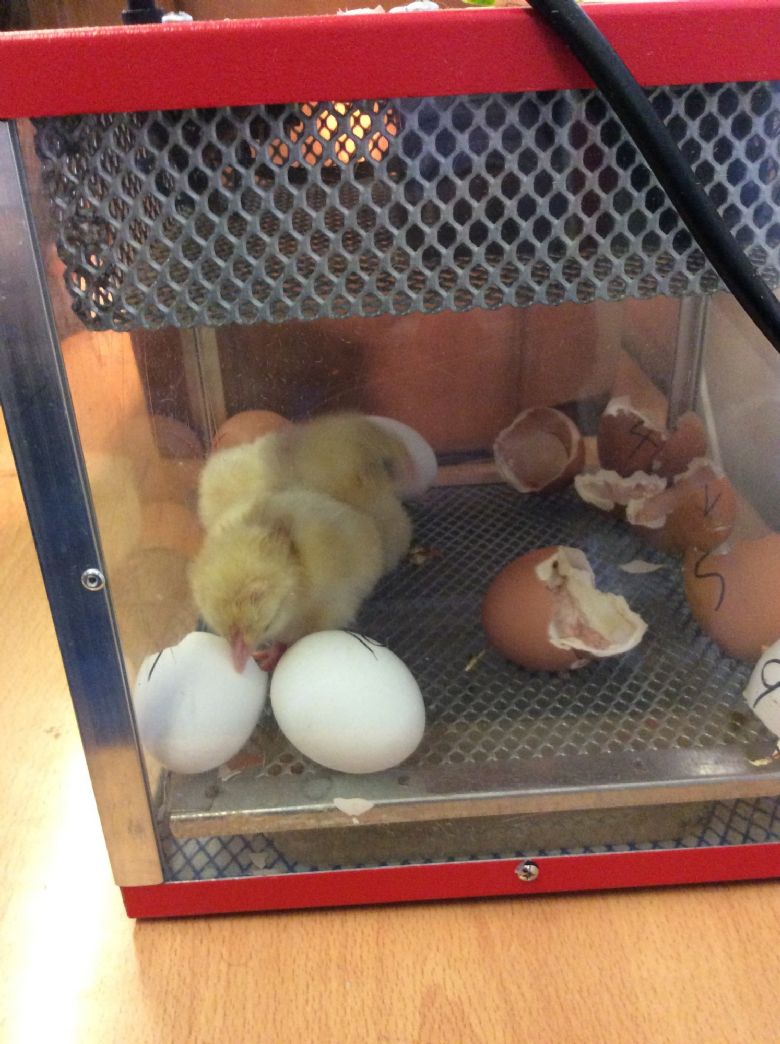 An Author comes to visit Early Years
We were lucky to have a real life female author called Tracey Corderoy come into Darell school. She shared two of her many stories with us: Fairy Tale Pets and No! The children listened attentively and answered questions about the text.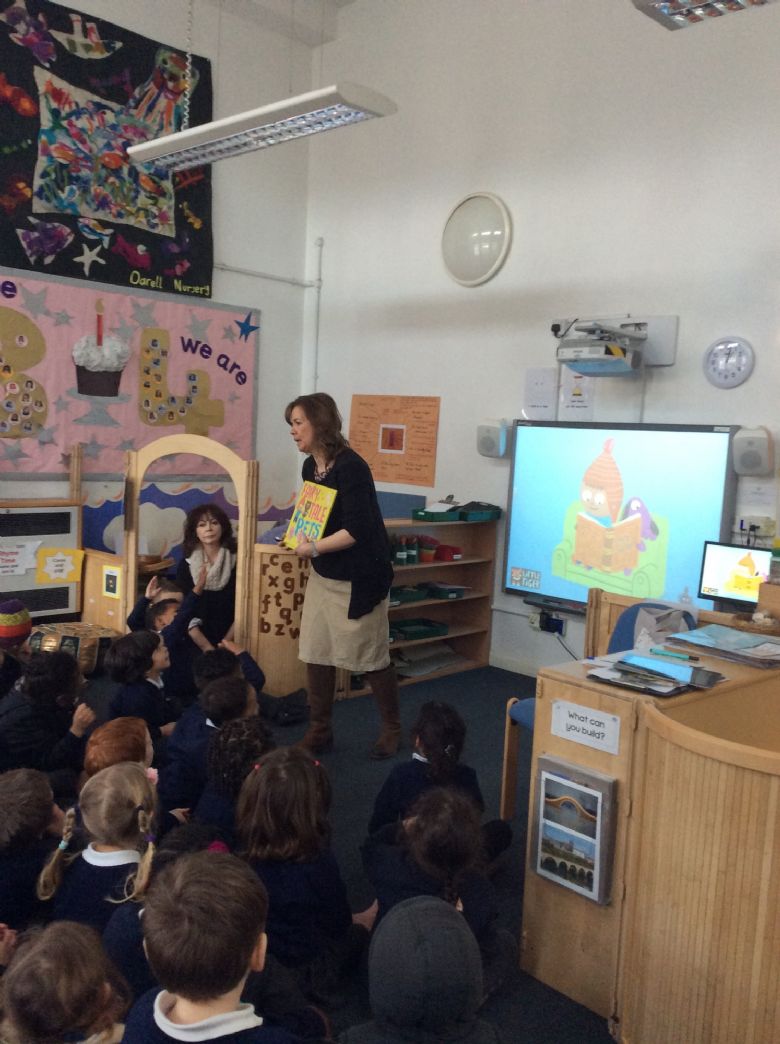 Snowy day in Reception
The children enjoyed snowy days in the snow. They did mark making in the snow, made a snow man and we all went over to the local recreation ground with the whole school.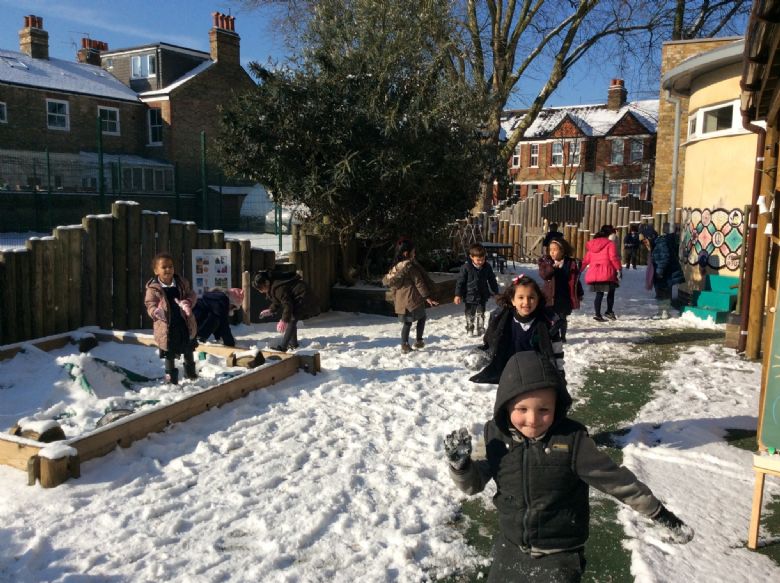 A visiting farm comes to Reception
Sunshine Class were lucky enough to have a visiting farm come to Darell school . The children braved the wind and snow while petting,brushing and feeding different types of farm animals. They also had a wool workshop, whereby they were taught how to wind up wool in order to make it stronger.
To see more photos , please go to the Sunshine Class gallery.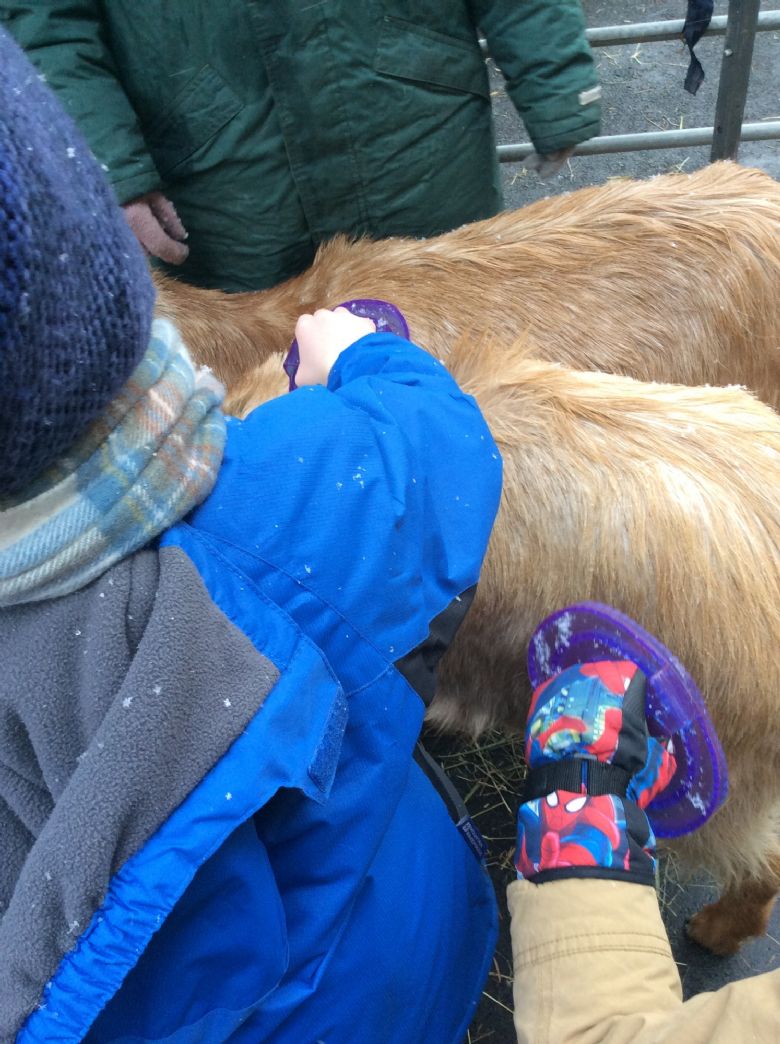 A special visitor came to Sunshine class
This week we began to read the text' Our Very Own Dog'. We have been learning about how to care for a dog and what things you need in order to keep it healthy and safe. Mrs Marshall invited her dog Percy into class. He was brought in by her dog-handling friend and groomer, Miss Alexa Bushell. The children prepared questions beforehand e.g. What does Percy eat? (his favourite food is cottage pie! - without salt as too much is bad for dogs). They also found out other facts about Percy which they wrote down. Please ask your children about this experience and see how much they can tell you about caring for a dog like Percy.
Please click on the Sunshine Class gallery to see more photos.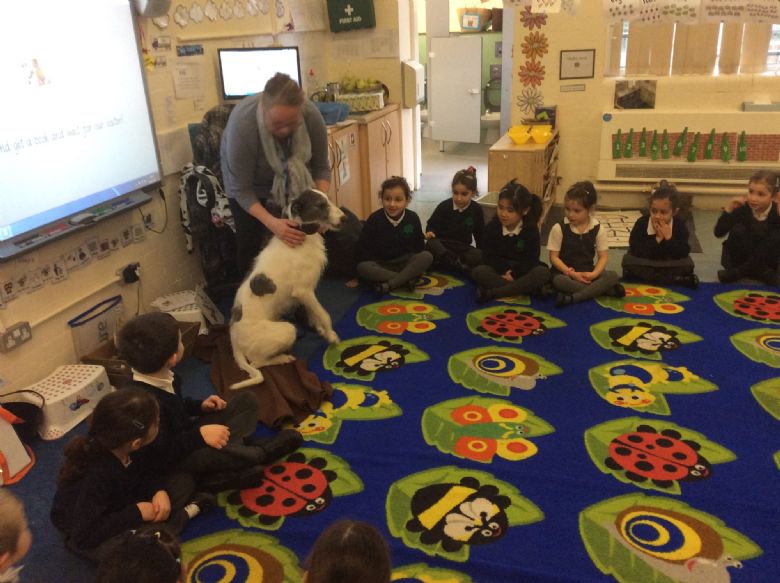 Bring a loved one to school day
To bring an end to spring 1, parents and carers were invited in to see what learning the Sunshine children have been doing this term.
The adults had an opportunity to look through the children's golden books as well as help ice a biscuit, make a card and or create a luminaire jar for a loved one.
Thank you for those that were able to attend.
To see more photos, please go to the Sunshine Class photo Gallery.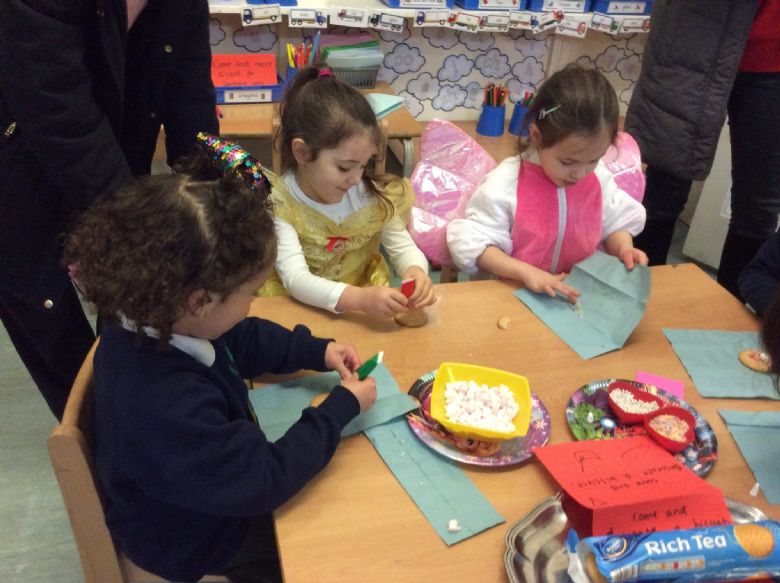 Campfire Experience
This week Reception have been looking at the story of the Three Little Pigs and what materials they used to build houses.
One material was sticks which they also used to build a fire to catch the wolf. Mrs Thomas kindly built a campfire with Reception using sticks, logs and kindling, and the children enjoyed the experience while eating flat bread!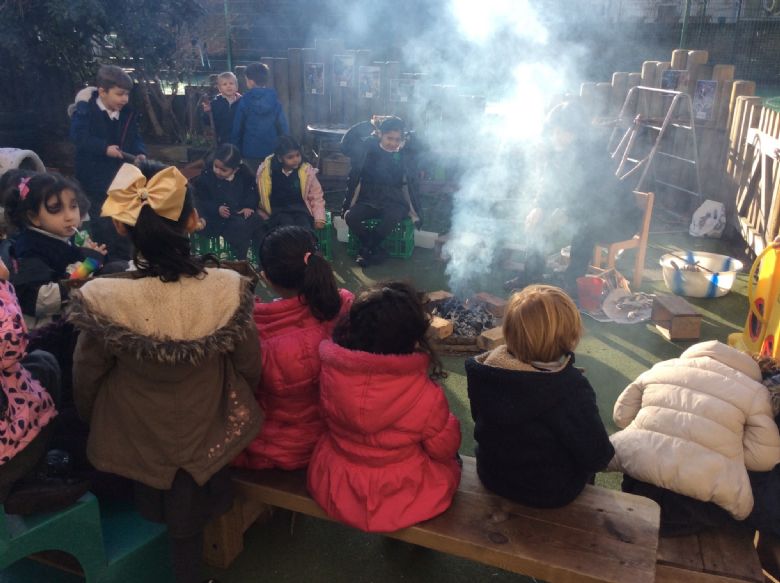 To see more photos go to the Sunshine Class Photo Gallery
Growing Runner beans in Reception.
We have previously read stories about magic beans and even moved like different beans in PE!!
This week we have been looking at beans in a different way, we have started to sow our own runner beans.
The children had to follow instructions. Perhaps you could ask your children if they can remember what they needed and what they had to do?
Please go to the Sunshine Class photo gallery to see some photos.
Panto comes to Darell in January 2018!!
What a great way to start the new year with West End in Schools panto company coming to Darell School!
The Reception children were joined by Key stage 1 and Butterfly Class.
They all were enthralled by the 2 member cast who recreated the story of Jack and the Beanstalk.
Take a look at the photos below.
There is also a link below which has all the songs that the children sang.
http://www.westendinschools.org.uk/murielthecow
Another Visitor comes to Sunshine Class on
Friday, 15th December 2017.
To finish off our topic of " What happens while you are sleeping?", a previous Sunshine parent came into class to share with us what she used to do while others slept. It was Luke Gaster's mum, Rebecca, and she used to work in an accident and emergency department in a hospital. She went on to to show the children what medical equipment she used to help adults and children who came into hospital. We learnt that a stethoscope checks a heart beat and a thermometer checks your temperature, to name but a few. Perhaps ask your child what else they remember about this fascinating visit?A BIG THANK YOU from the current Sunshine Class. Rebecca, it was a truly informative and fun experience.
Below are photos of the visit where Rebecca demonstrated using the various items of medical equipment by pretending to use them on the children as well as Miss Helen and Mrs Marshall!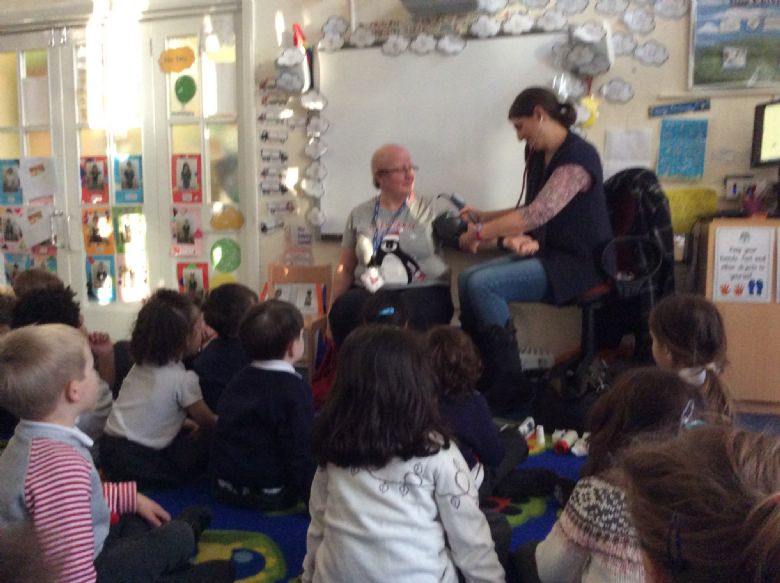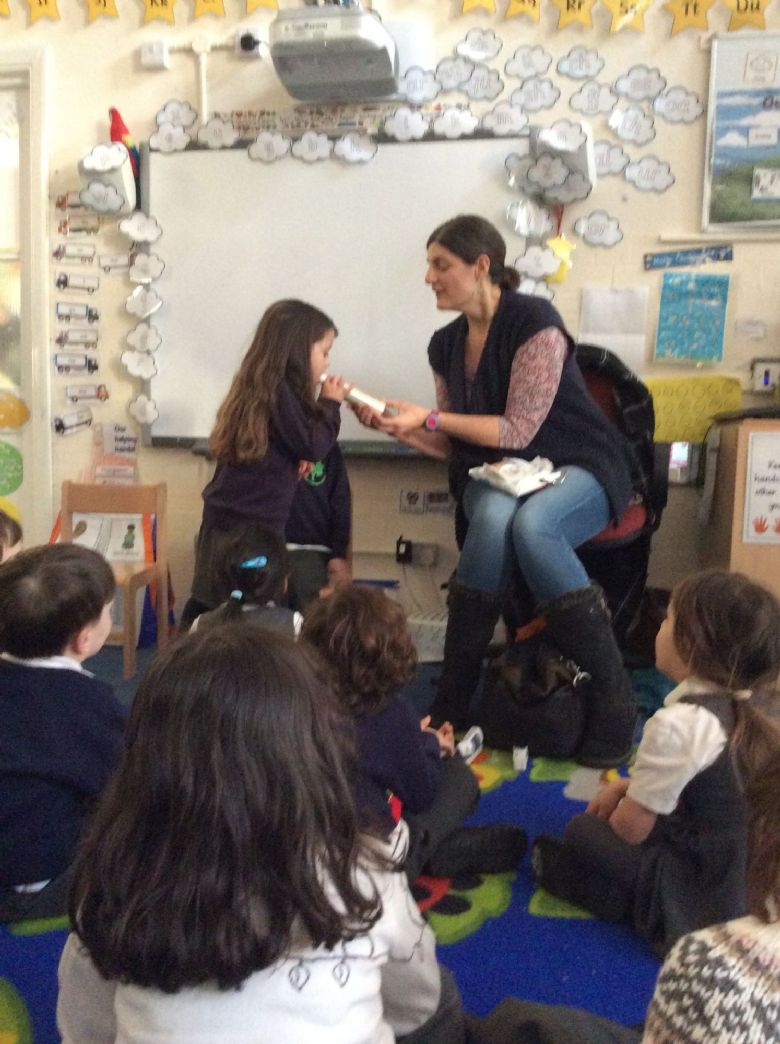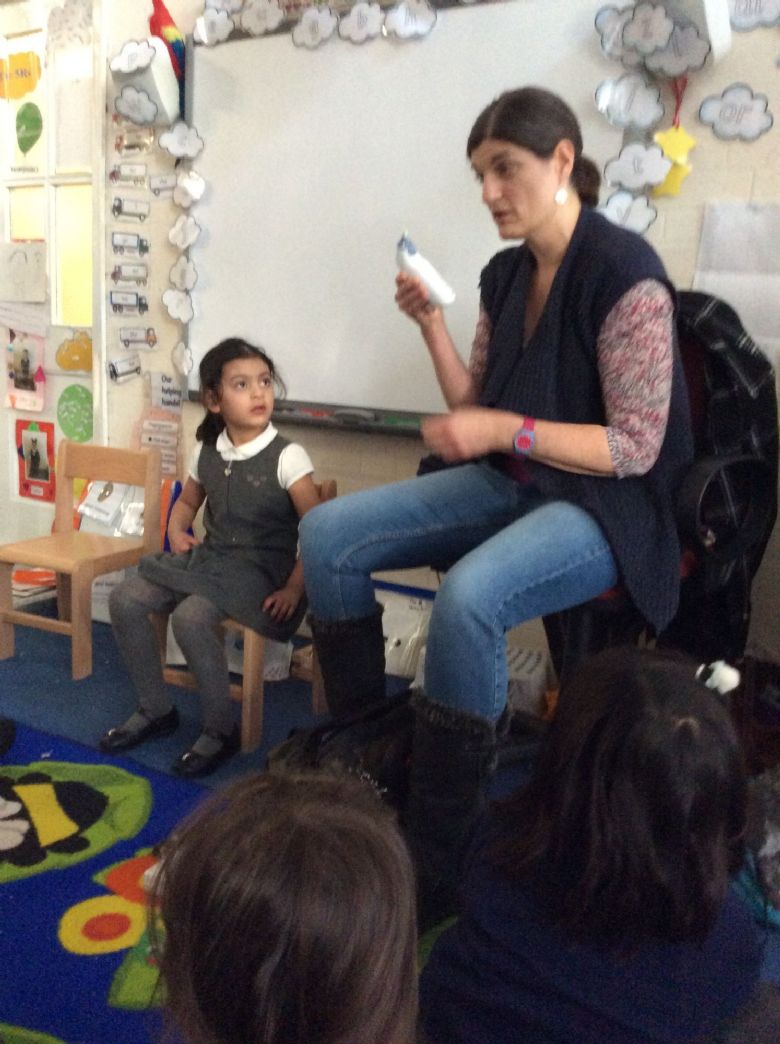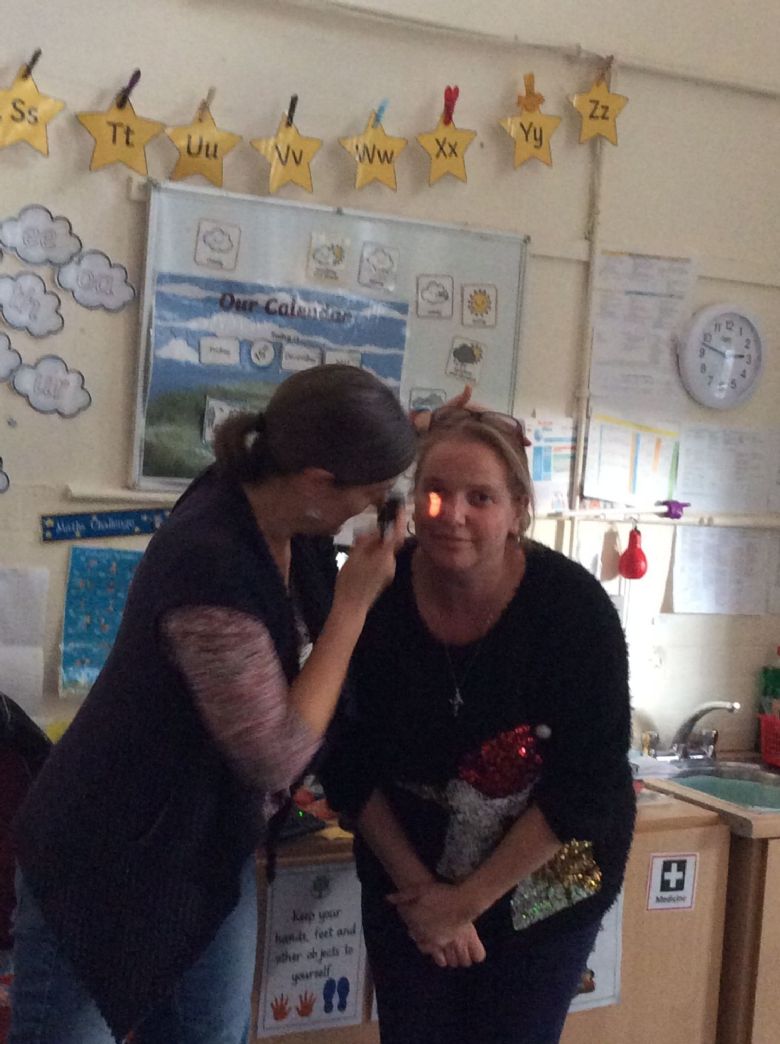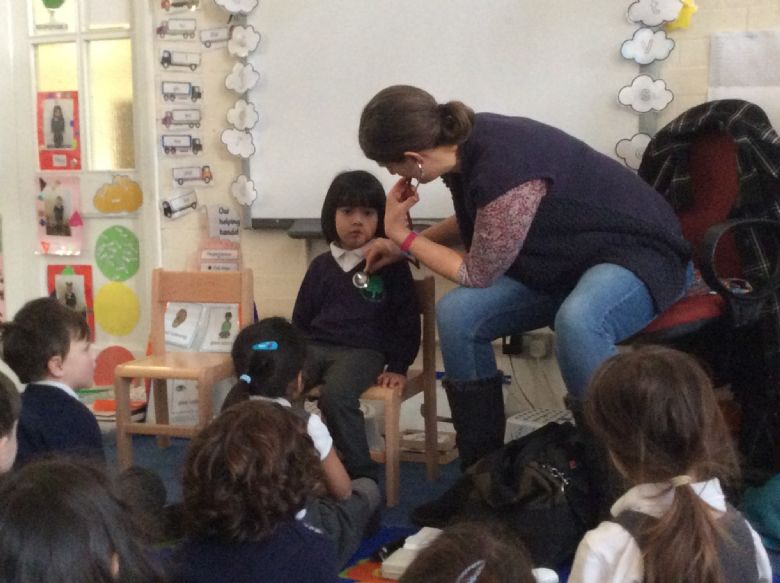 Visitor Comes to Sunshine Class
8th December December 2017.
We have been continuing to think about the topic question: What happen's while you are sleeping?
We were lucky enough to get in a parent who works at night. Avesta dad came in to answer some interesting questions.
They asked where he worked and what he did.
They found out that he is a chef and works in a restaurant.
They also asked about his uniform which they found out he has to wear to help protect him against heat and spillages.
So a BIG thank you from Sunshine class for coming to talk to us inbetween shifts !!!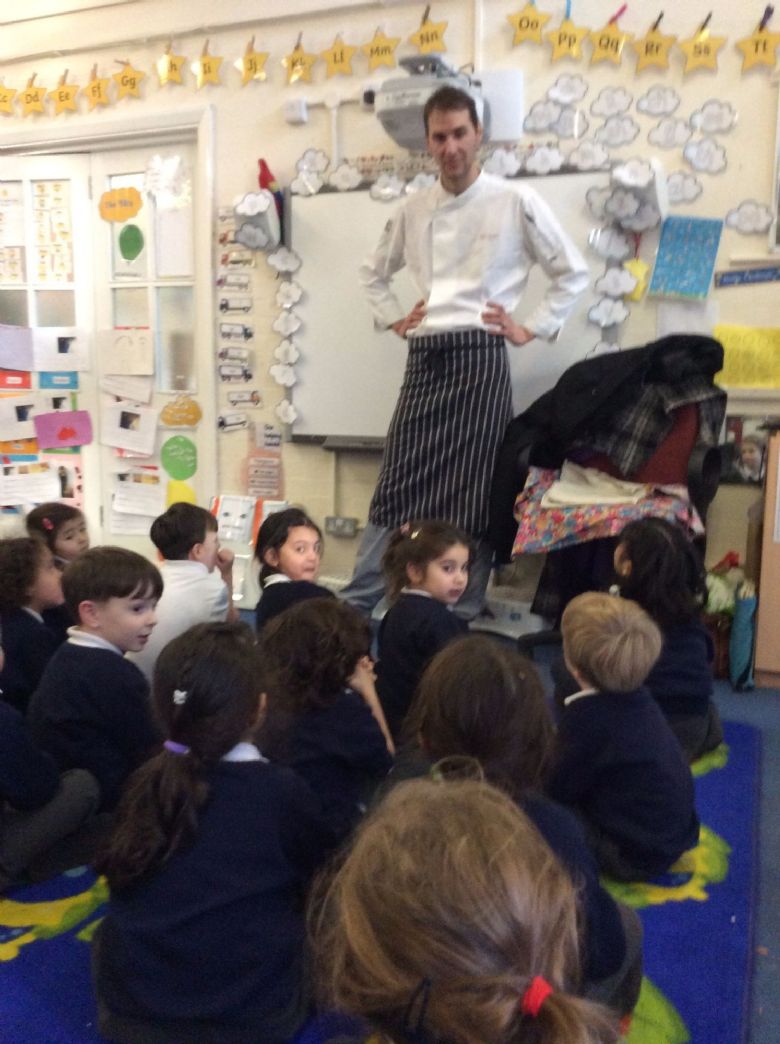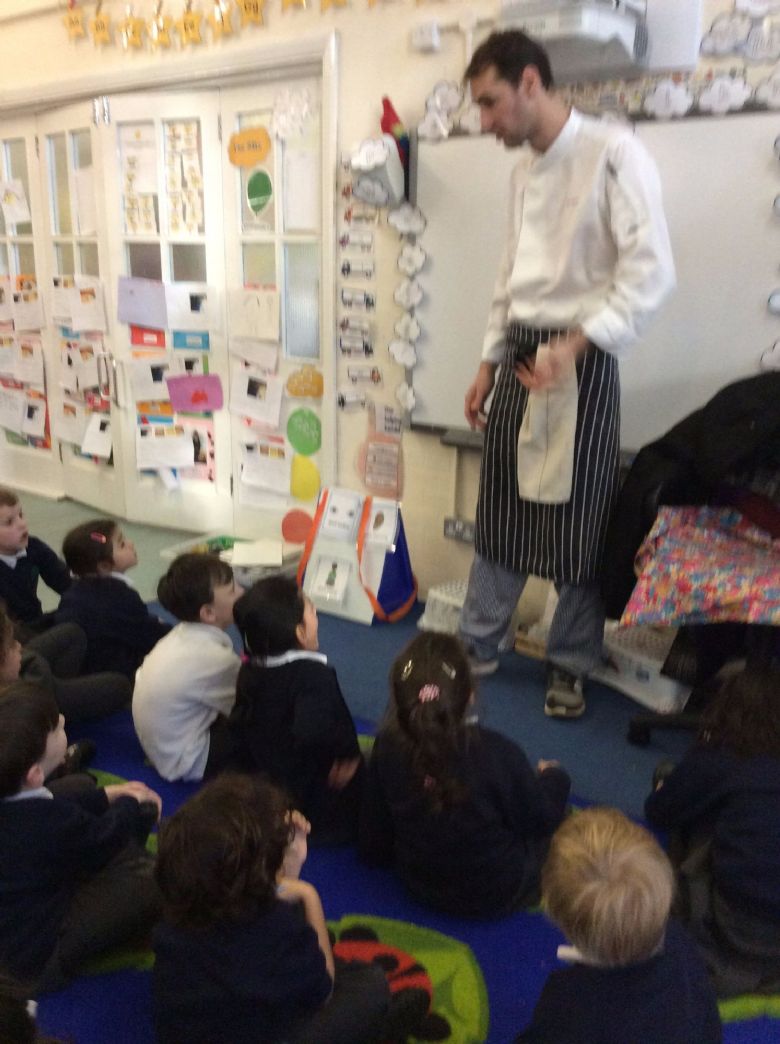 Poppies come to Reception
This week we have been looking at the significance of the poppy and why there are different colours.
Red symbolises the blood shed by people, purple representing the animals hurt in combat and white signifying peace.
We went onto use different techniques and media to recreate our own poppies. We were joined by Miss Leslie our lunchtime supervisor. We discussed who we were going to give them to and why.
Autumn in Reception
Come and take a look at our learning through comparing the seasons, using our mathematical skills to measure length and using our phonetical skills to mark make in our outside classroom. We also have been extending our relationships by making new friends. Check out the class gallery for photos.
Our first week in Reception.
This week in Reception we have been learning new skills, namely making new friendships and learning to be kind to one another.
We have been also exploring our inside and outside classrooms.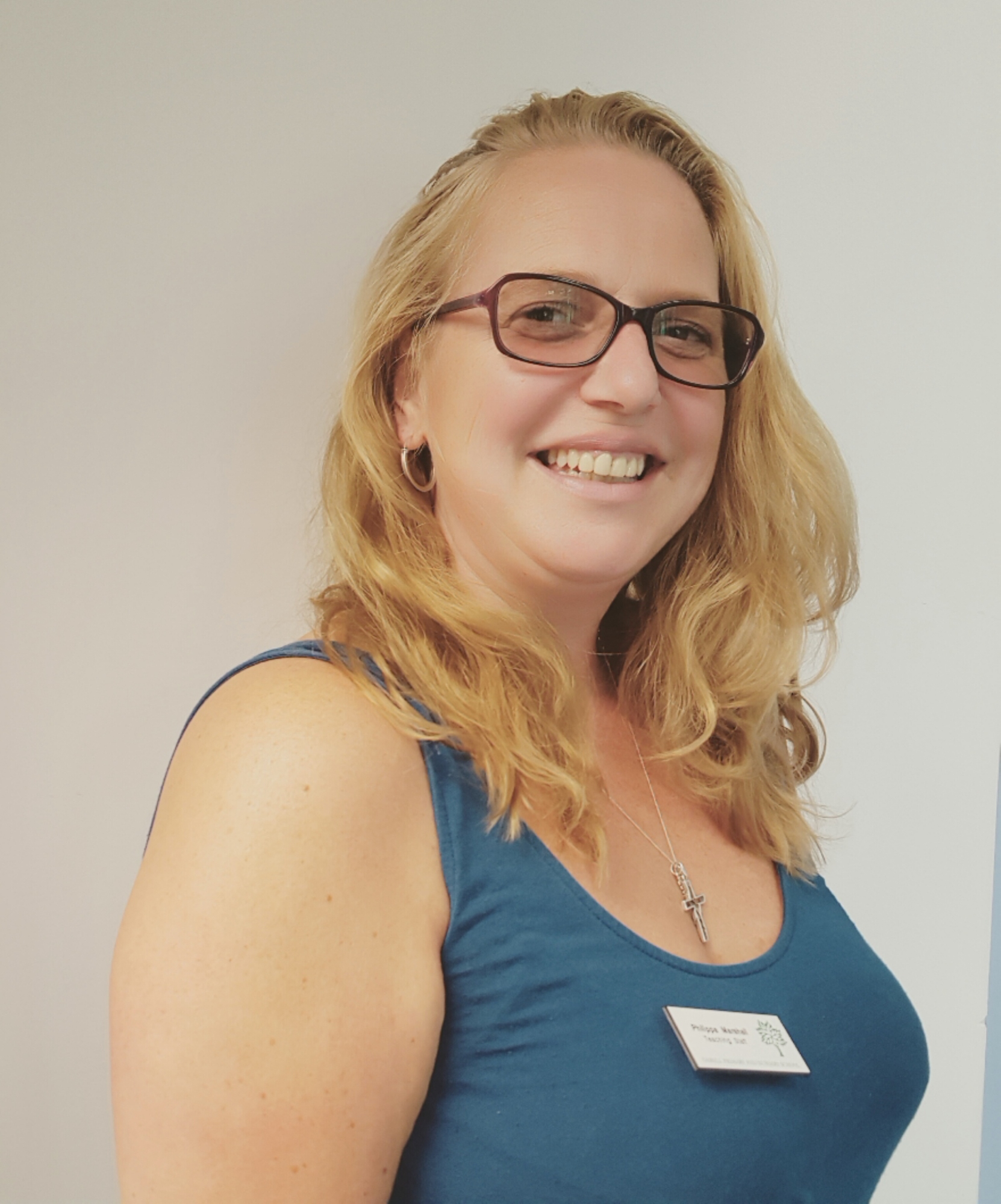 Welcome to Reception Sunshine Class.
I am Mrs. Marshall, and I have been teaching at Darell for nearly a whole academic year, although I have been teaching, while bringing up a family, for nearly 14 years!
I am really excited about meeting the new Sunshine Class and working with you and your child.
You will be receiving the half-termly curriculum newsletter, which will detail the specifics of the curriculum and key dates. You will also have a chance to 'Meet the Teacher'. We very much hope you will all be able to attend. This will be an opportunity for you to hear about the expectations this year, as well as how you can help support your child and the school.
In addition, we will be sending you the Home/School Agreement for you to read, sign and return, a Good to be Green behaviour booklet, and a Practical Guide for Parents at Darell.
You will have an opportunity to ask any questions during the home visits which will be on either Wednesday 6th, Thursday, 7th or Friday, 8th September 2017. Alternatively you can always make an appointment with me through the school office.
Best wishes,
Mrs. Marshall