Ladybird Class (Year1)
Click here to view Year 1 Curriculum newsletter
Click here to view 100 Recommeded Reads for KS1 children
Click here to view Year 1 Phonics Screening Check - A Guide for Parents
Ladybird Class having been learning about trees in their science lesson this week. They decided to make friends with the trees in the playground. After lots of hugging they took bark rubbings of all of the different trees. Check out the class photo gallery for more photos.
Ladybird Class loved their visit to Windsor Castle. We learnt about knights, pages and squires in the special Moat Room. We also got to go inside the magical State Apartments where we saw shiny armour and the beautiful interior. Walking around the outside of the castle was very interesting as we got to see all the things we have been learning about in class, including arrow slits, battlements, cannons etc. More photos of our trip can be seen on our photo gallery.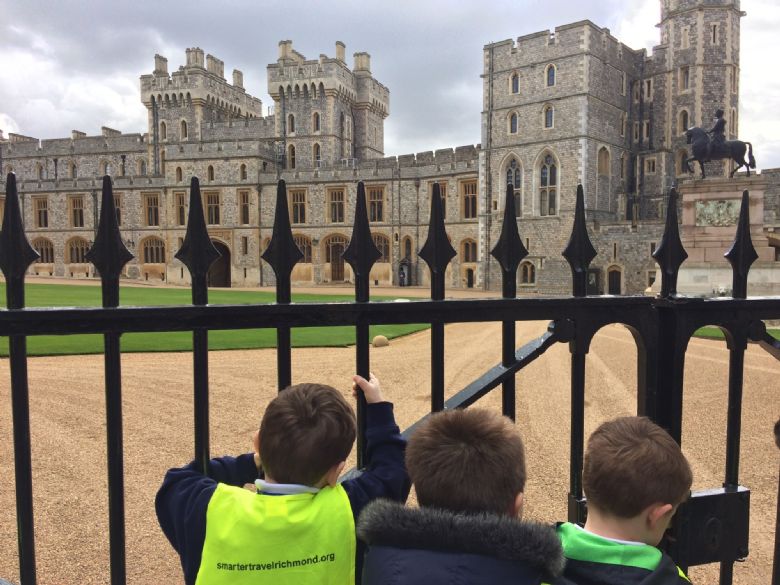 We have had a very busy start to Spring 2. We discovered mysterious eggs in both year 1 classrooms. We have spent time investigating these eggs describing what it looks like. Drawing what we think might be inside the egg. Writing great sentences to describe the egg. Finally the egg hatched and a mystical red dragon appeared.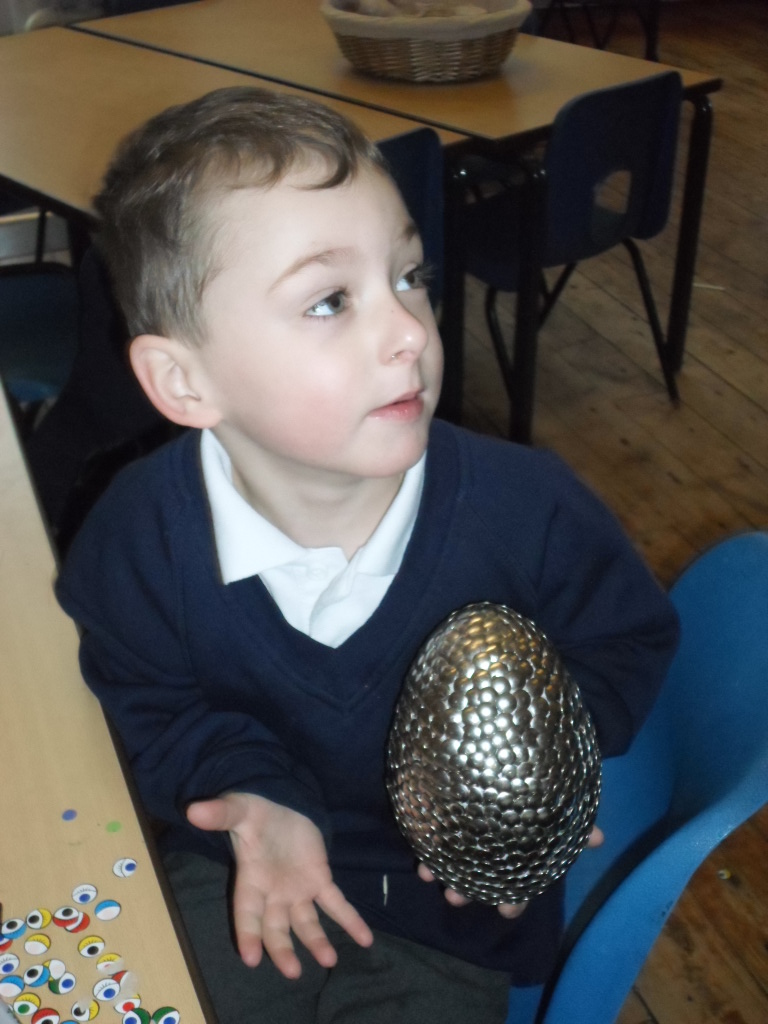 As part of Safer Internet Day and the theme 'Create, Connect and Share Respect', Year 1 thought about who they were connected to. They decided they were connected to their family, friends and school. They thought about how they connected to their class friends and, to show this, they passed a ball of wool to the person they felt connected to. They ended up with a huge spider's web made out of wool!
In maths this week we have been learning to compare and order objects from shortest to longest. We have also compared our heights and found people who are taller and shorter then us.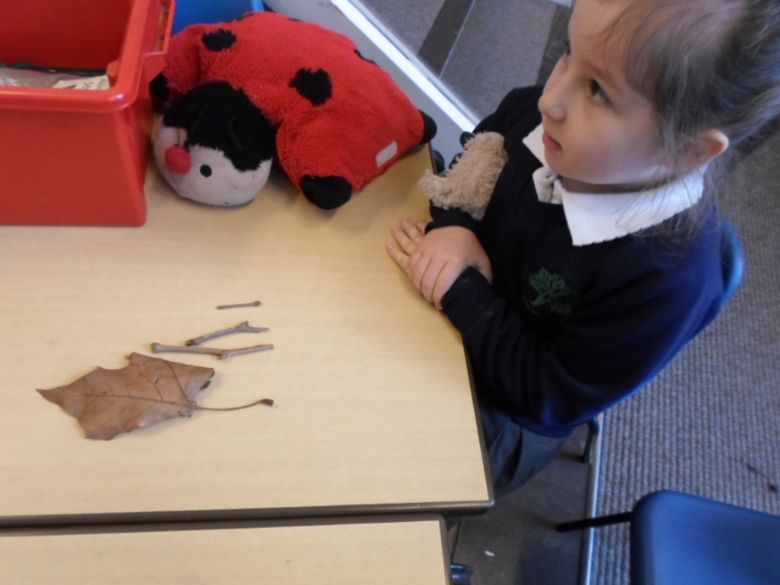 In computing this week Ladybird Class have been having fun learning how to change our writing using different fonts, colours and sizes.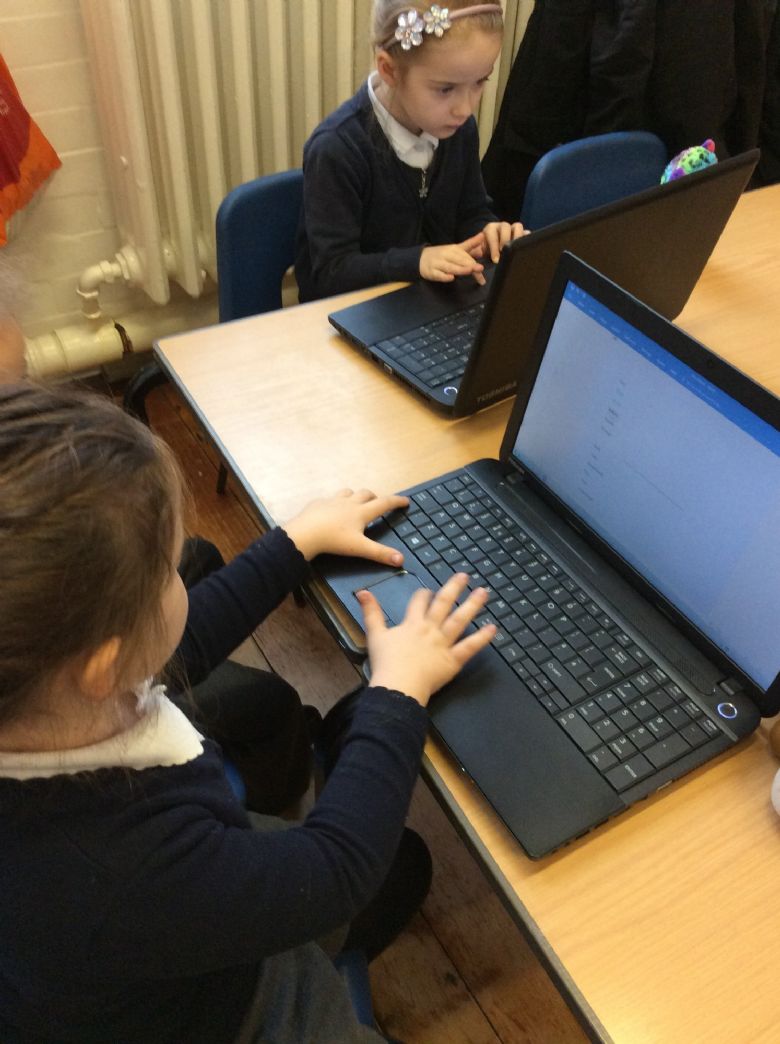 In maths this term we have been learning to place value of numbers within 20. This week we began doing addition and subtraction for numbers within 20. We have been using numberlines, tens frame and whole part models.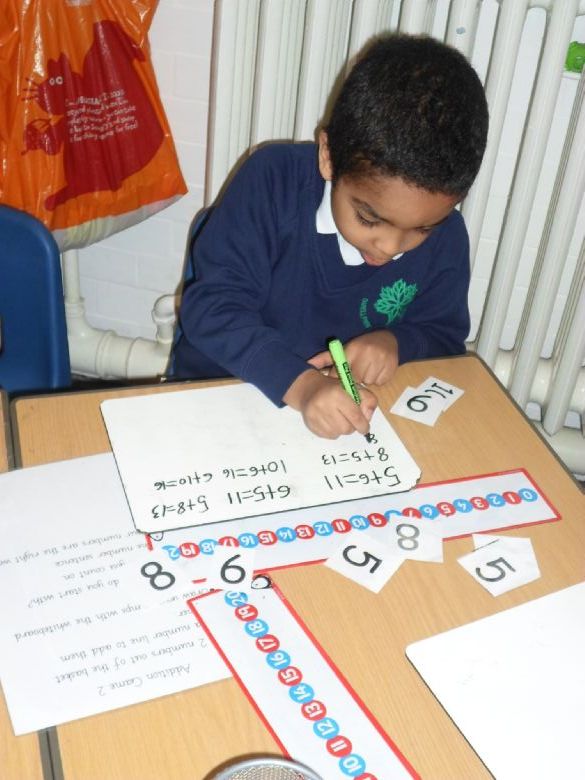 Welcome back! This term we have been learning about traditional tales. We have learnt the stories of Jack and the Beanstalk and Goldilocks and the Three Bears. We have been doing roleplay and drama to bring the stories to life.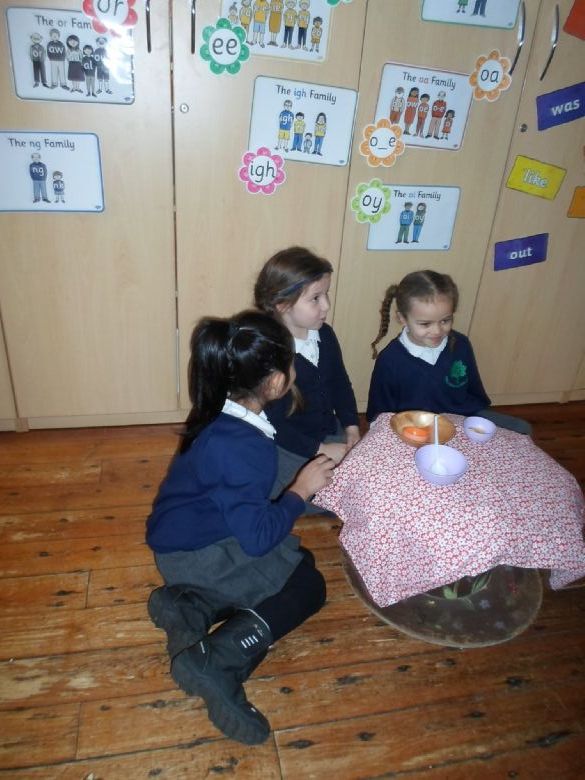 This term in art we have been making lovely collages of trees throughout the seasons. We used water paint, brushes, our hands and fingers.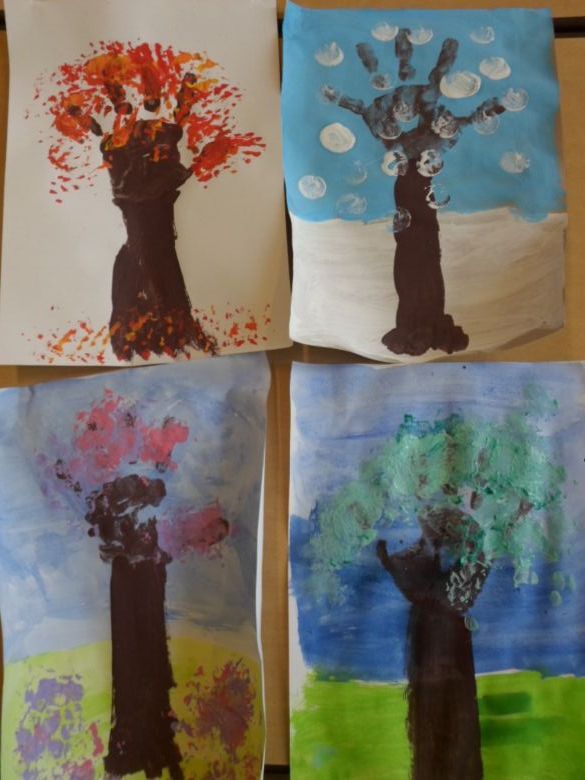 We have had a busy and fun start to Autumn 2. We have been learning about the different seasons. We went on a investigational walk to the North Sheen Rec to search for signs of Autumn. After our walk we composed sentences using adjectives to describe all the interesting things we saw on our walk.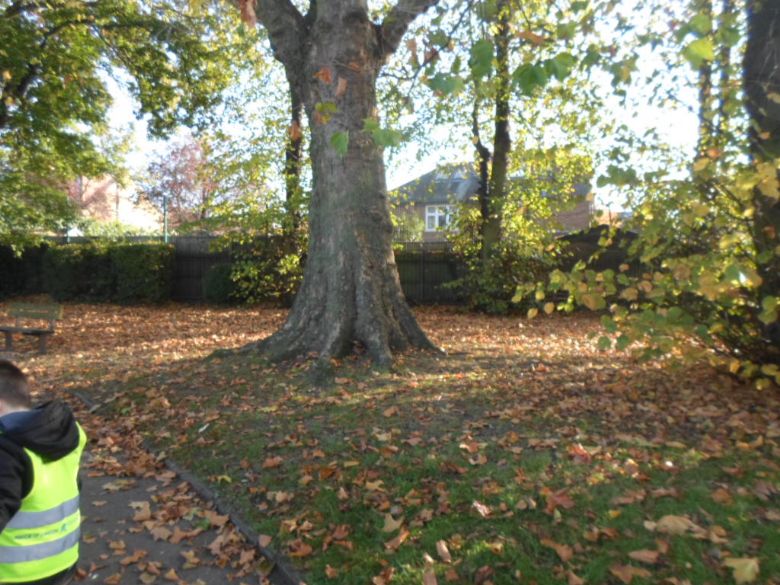 This term, in design and technology, children have been designing their own spaceship or space rocket for a human or an alien. Children then used junk modelling to create their design. After that, we evaluated our design and creation. We discussed what went well, what we might like to change, and what we learnt from the process.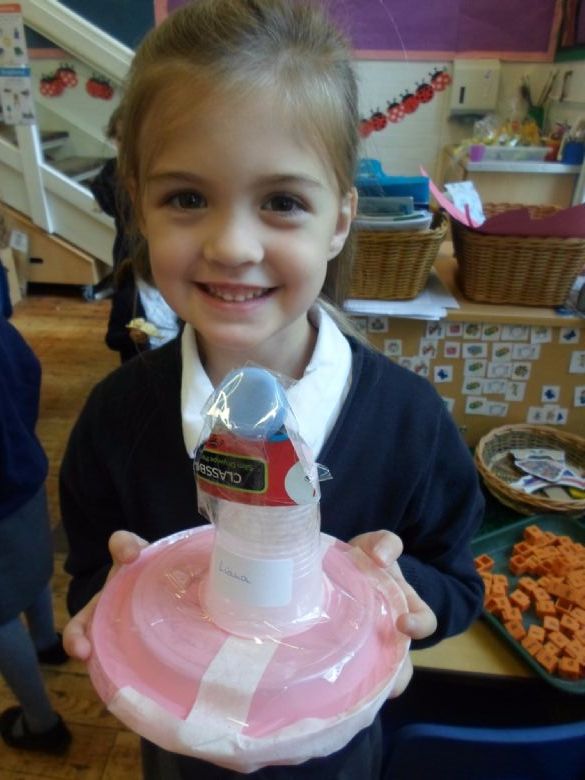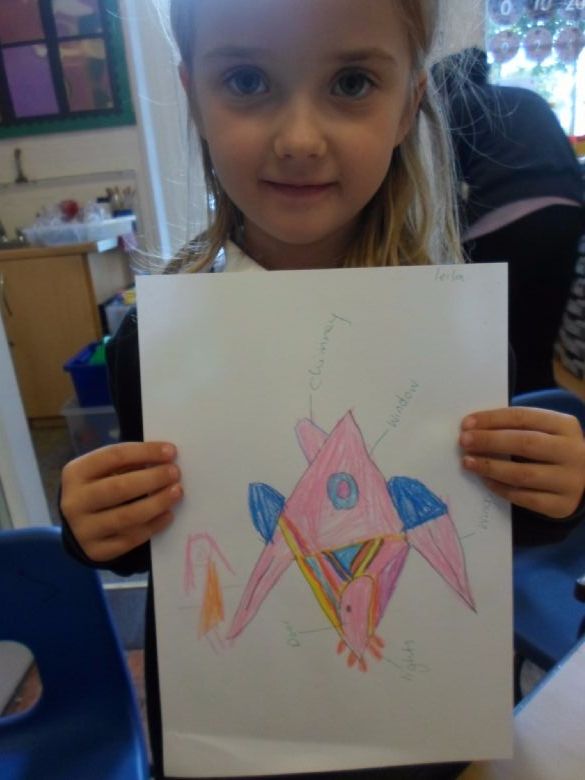 Ladybird Class children have had a great start back to the year. Our topic has been 'Moon Zoom'. It all started with a crash site in the playground. Children investigated the site and came up with explanations on what they thought had happened. In English we have been learning all about the book 'Beegu'. It is about an alien who is lost on earth. Children have been writing interesting sentences to describe how Beegu feels in the story, and adjectives to describe her character.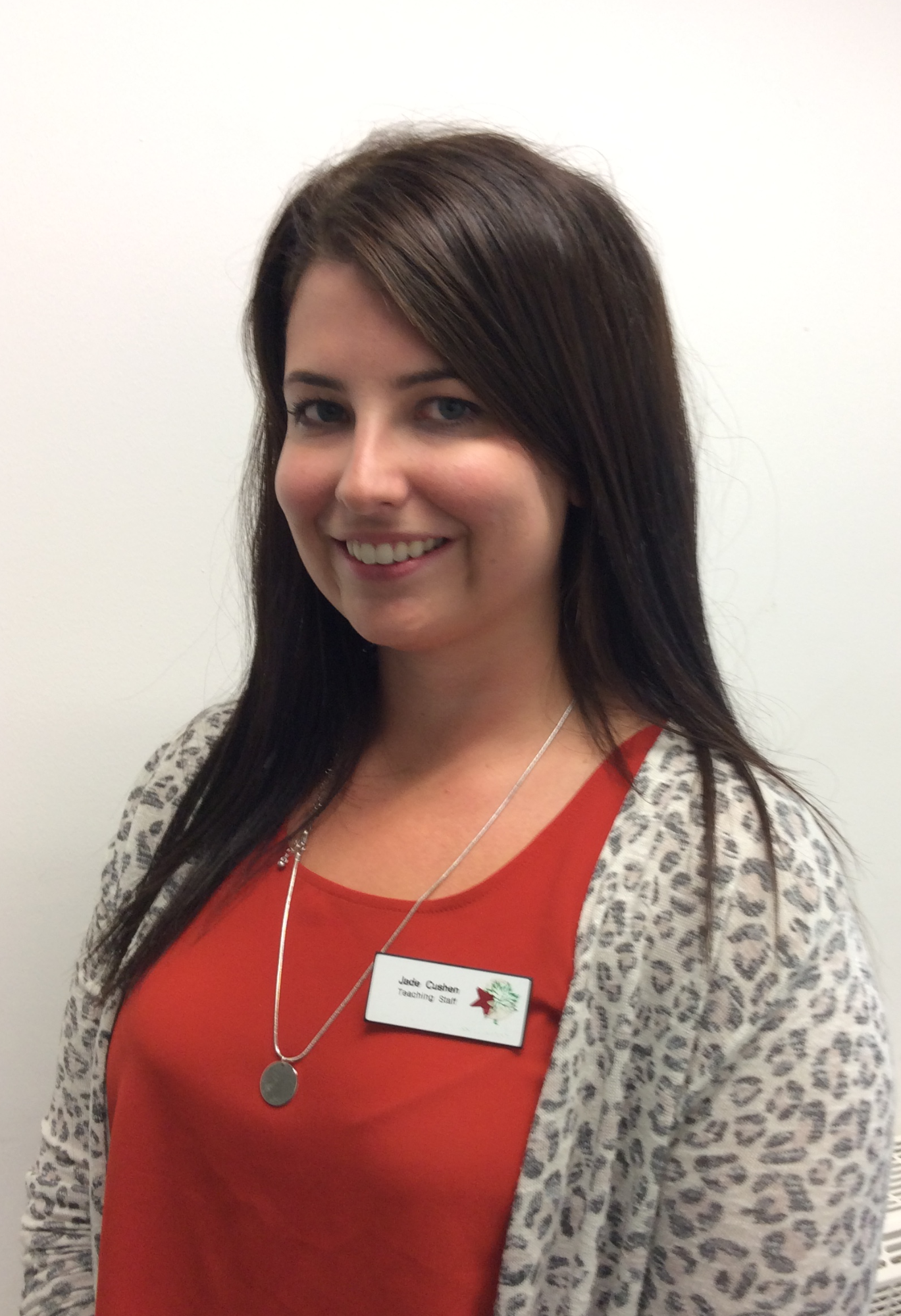 Welcome to Ladybird Class. I'm Miss Cushen. This is my second year in the Ladybird classroom. I am really looking forward to another wonderful year with Year 1 and am excited about next year's Windsor Castle trip.
You will be receiving the half-termly curriculum newsletter at the beginning of next term, which will detail the specifics of the curriculum and key dates. You will also have a chance to 'Meet the Teacher' at the beginning of September. We very much hope you will all be able to attend. This will be an opportunity for you to hear about the expectations this year, as well as how you can help support your child and the school.
In September, we will be sending home the Home/School Agreement for you to read, sign and return, a 'Good to be Green' Behaviour booklet, and a Practical Guide for Parents at Darell.
I look forward to working with you next year. If you have any concerns or questions, please come and see me after school or contact the office for an appointment.
Miss Cushen