Eagle Class (Year 5)
Click here to view Year 5 Curriculum Newsletter
Click here to view 100 Recommended Reads for Year 5 and 6 children
Maths: Geometry
We have recently been studying angles and making 3D shapes from nets as part of our geometry unit! When measuring angles, we were able to use our knowledge that all angles around a point add up to 360 degrees to check each others' measuring.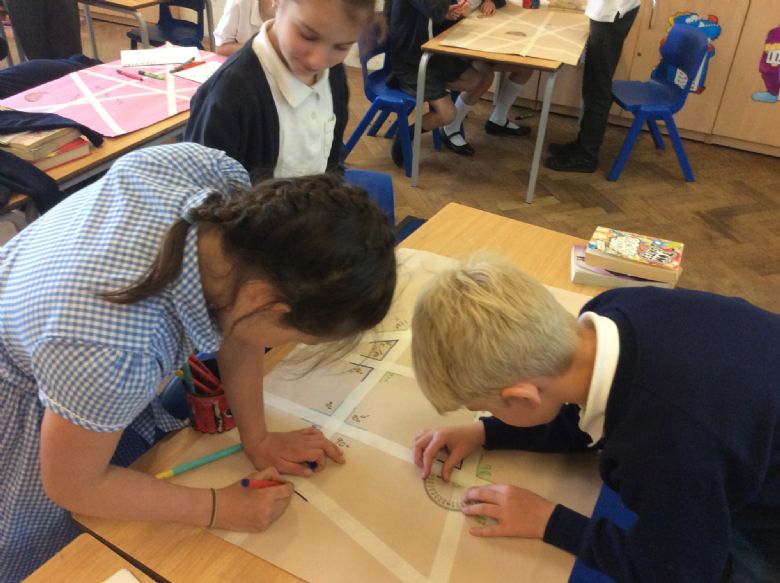 Meanwhile, when making nets, we found our knowledge of 2D shapes was really useful!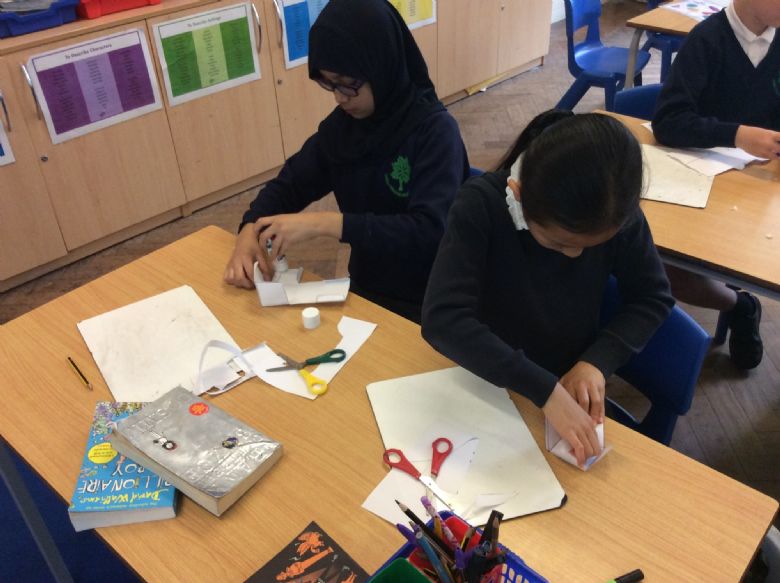 Science: The Forces of Roller coasters
Do you know why you can swing a bucket full of water around without spilling a drop? Year 5 have learnt about centripetal force and how it keeps the water in the bucket as long as you swing it around fast enough! When you see a roller coaster do a loop-the-loop, it is this force that stops you from falling out when you go upside down!
New Topic: Scream Machine
Eagle Class were excited about their new topic after turning the classroom into a virtual roller coaster this afternoon!
They are looking forward to creating their own leaflets about their chosen theme park, learning about the forces behind roller coasters and creating their own model roller coaster as part of a D&T project!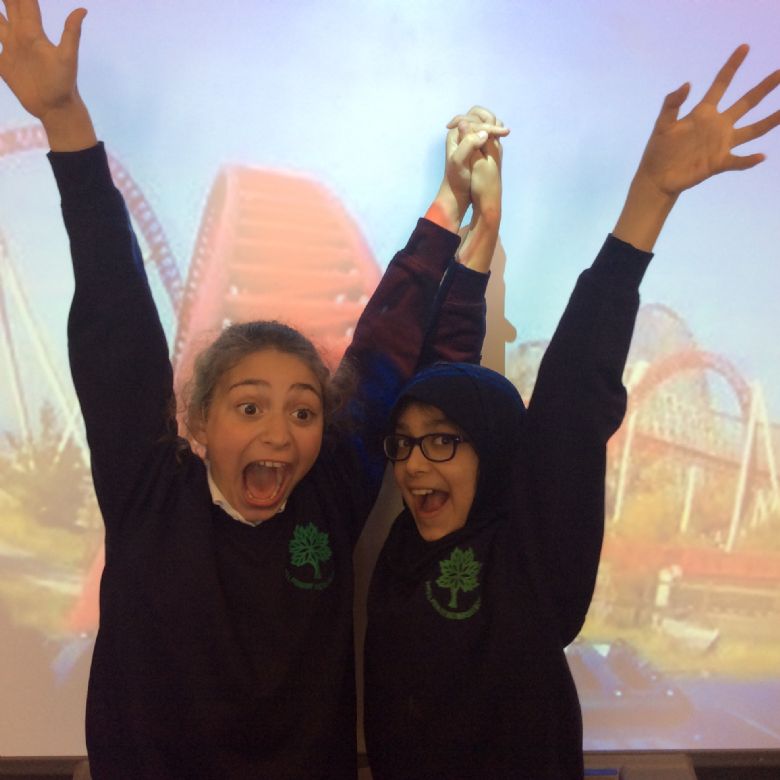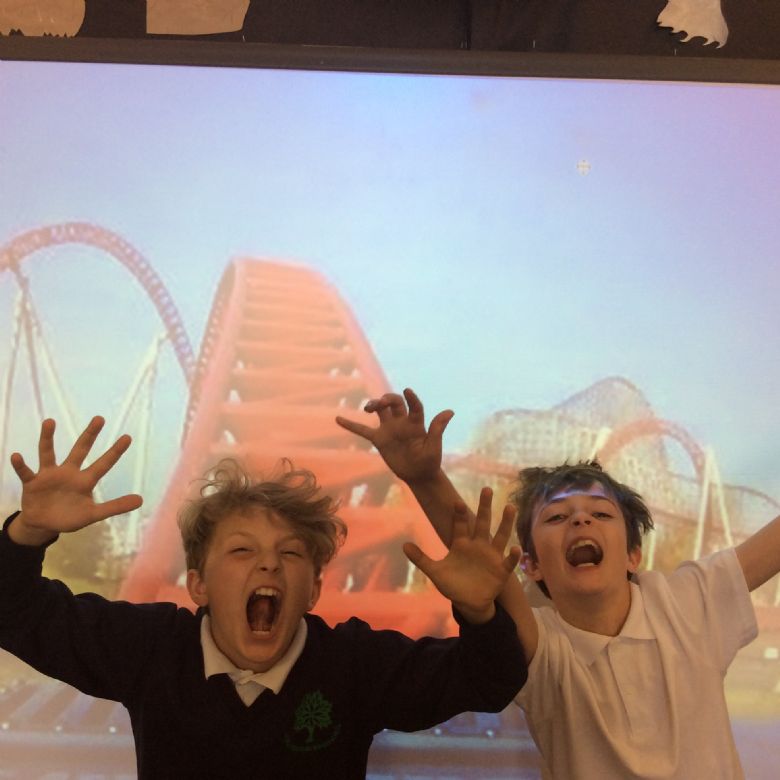 D&T: Space Probes
Year 5 were set the task of designing their own space probe that would explore Mars. They designed the different parts, thinking about the measurements they would take on Mars. Working in teams, they created their space probes. Check out the gallery for more photos.
Science Talk
Years 5 and 6 enjoyed meeting Professor Tom Pike from Imperial College who updated them on his work with NASA's current Mars mission "Insight Mars".
The children were able to inspect a prototype of the seismometer built at Imperial College which is currently on its way to Mars.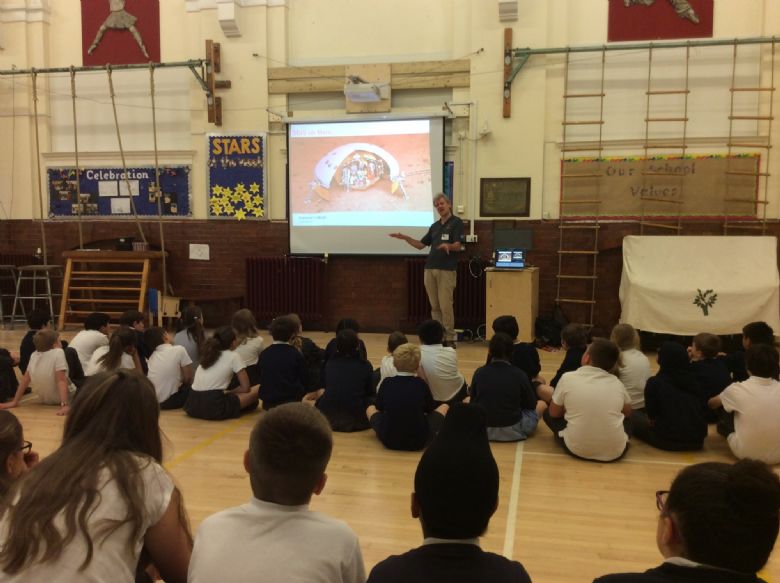 Orange Tree Theatre Trip
Year 5 have been learning about The Merchant of Venice with the Orange Tree Theatre and enjoyed going to see the play this week. They took their handmade masks with them and lots of budding actors had a chance to do some acting in the play too!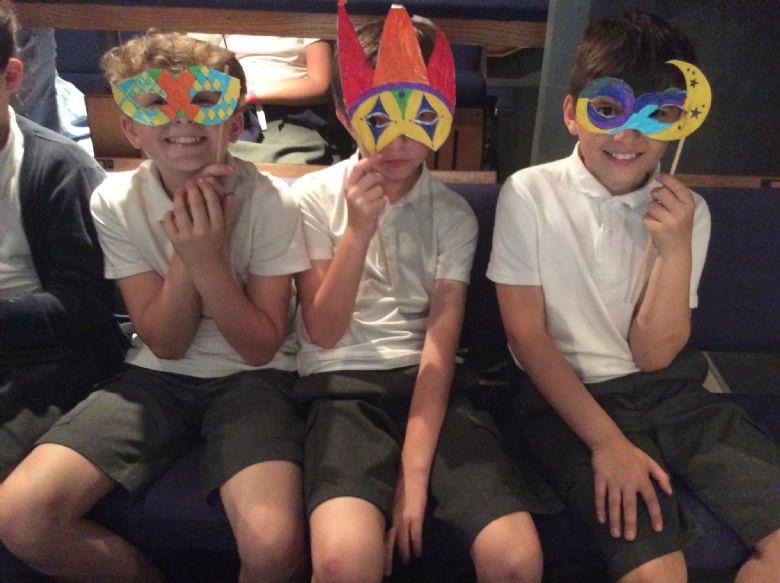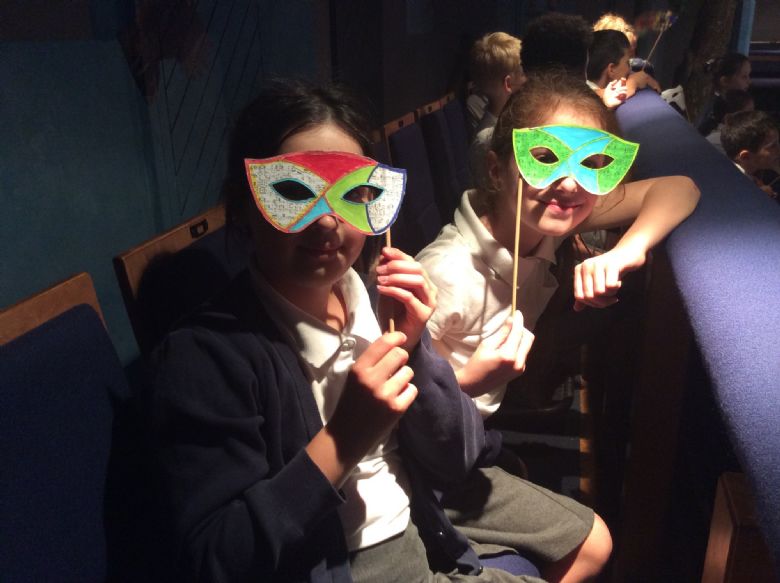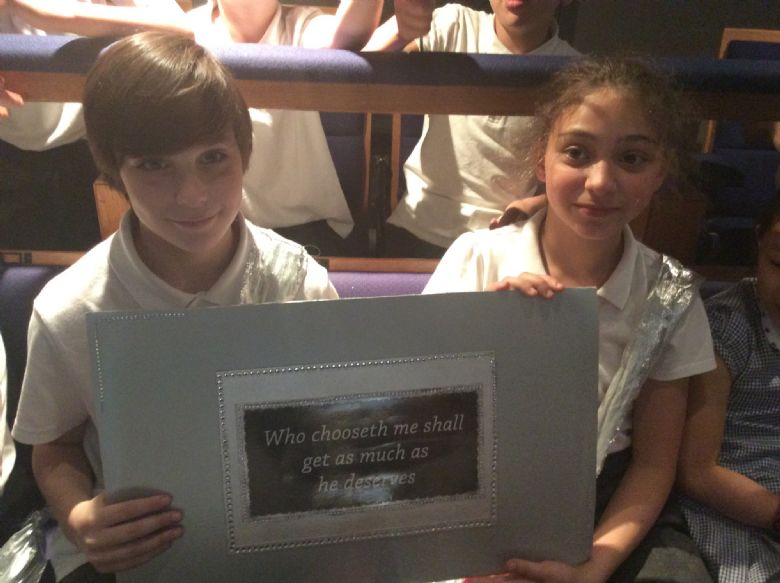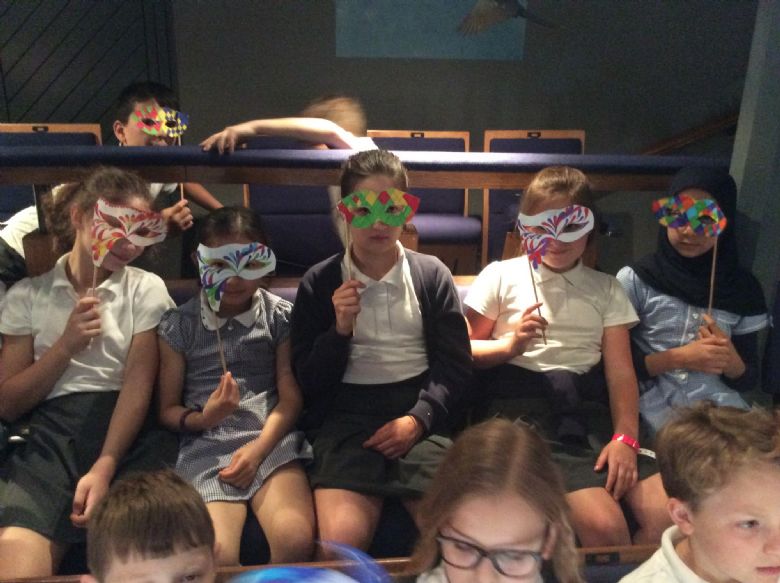 Art: Abstract Art
In art, we have been studying Jackson Pollock and created our own collaborative piece of abstract art in the playground. The children tried lots of different techniques to create a space inspired background for our display.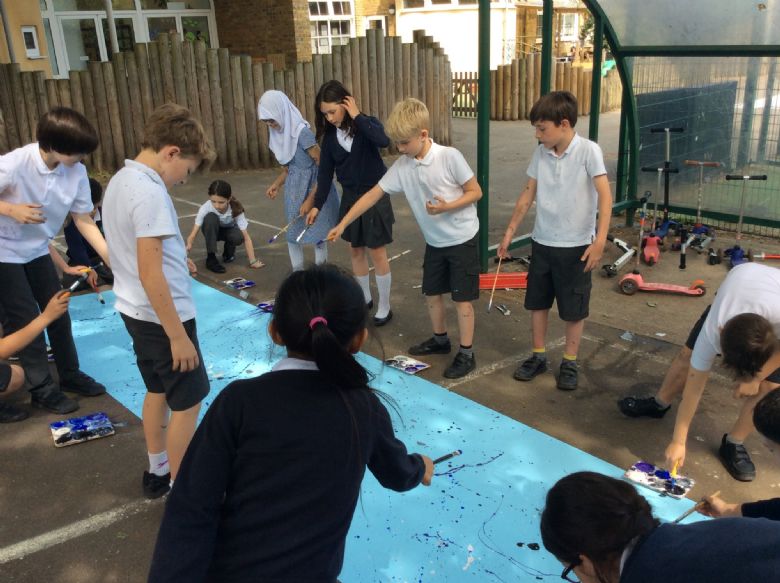 Music: Painting to 'The Planets'
Eagle Class enjoyed their music lesson when they listened to 'The Planets' by Holst and were given the freedom to create a picture based on the music they heard. Which planet do you think they were listening to?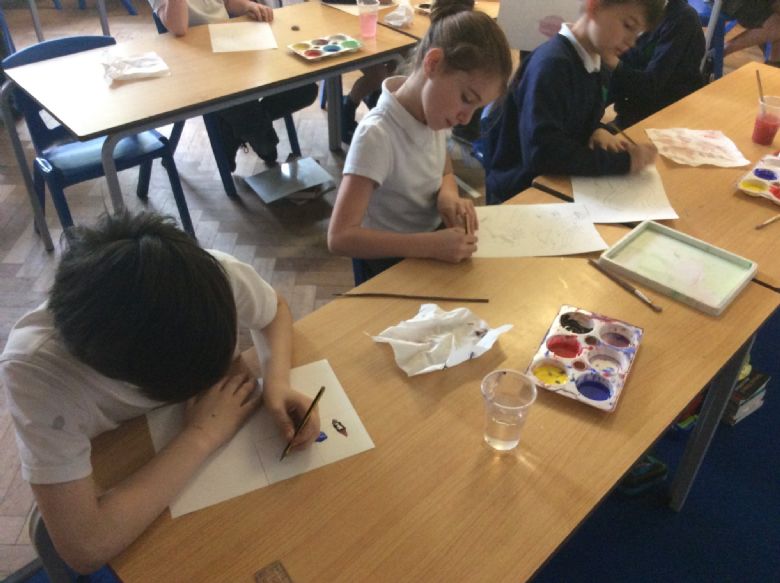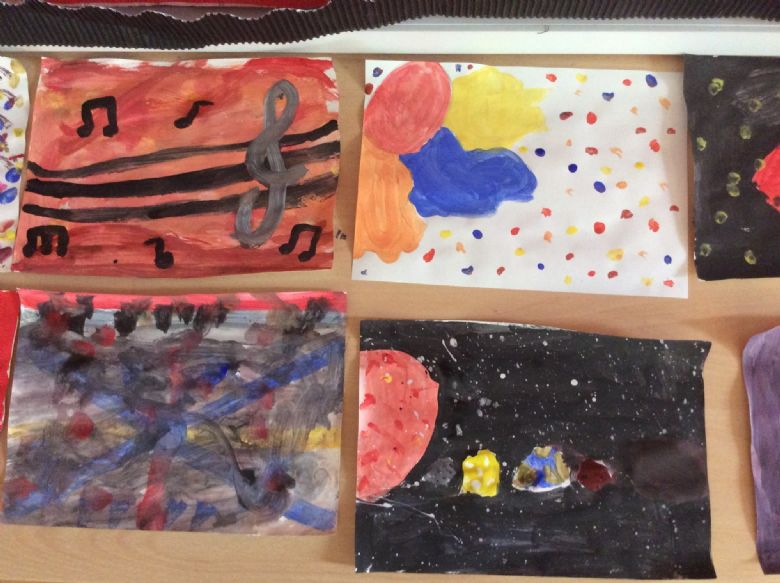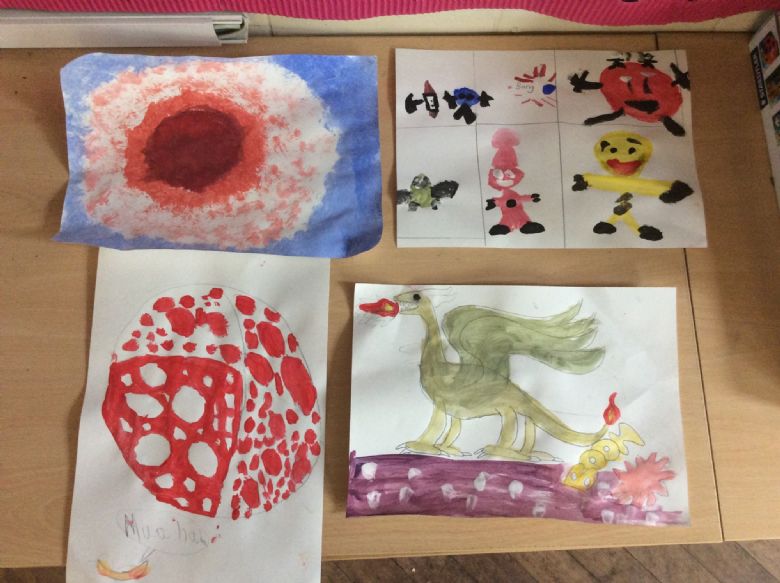 Science: Phases of the Moon
To help them identify the different phases of the Moon, Eagle Class used Oreo cookies and removed the white part to show a: full moon, half moon, new moon, crescent moon and gibbous moon. They used this to help them to write an explanation of why the Moon changes shape over the course of a month.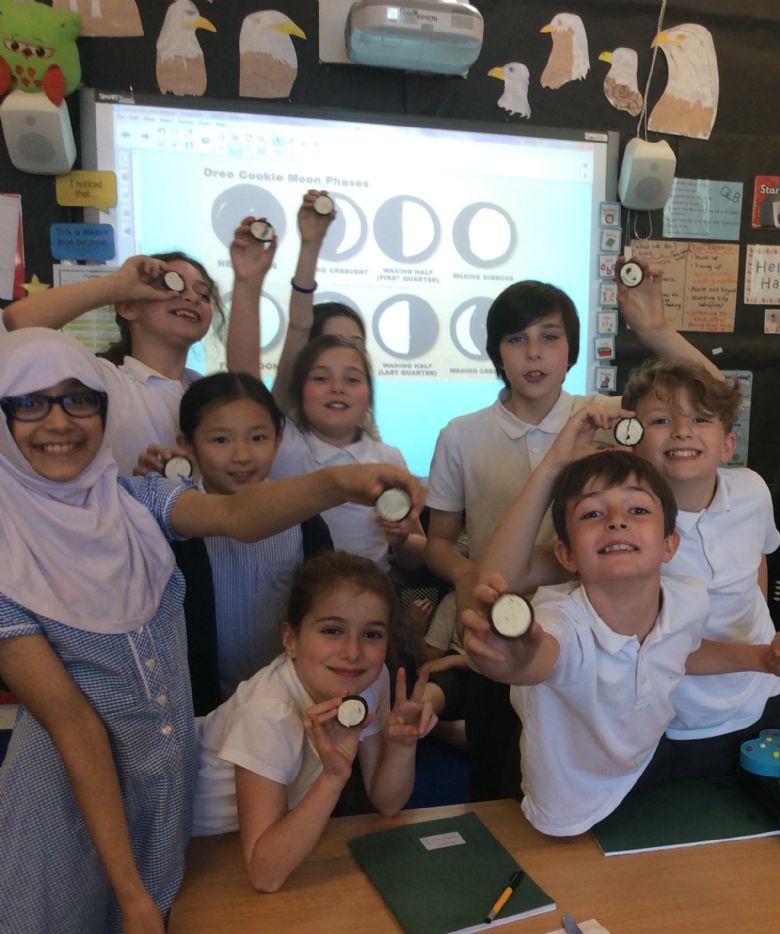 Science Museum Trip
As part of their learning about space, the children visited the Science Museum. There, they were able to explore the Wonderlab, taking part in hands-on science activities. They then visited the Space Gallery to learn more about space exploration - including seeing real life shuttles that had been up into space! Please see the gallery for more photos.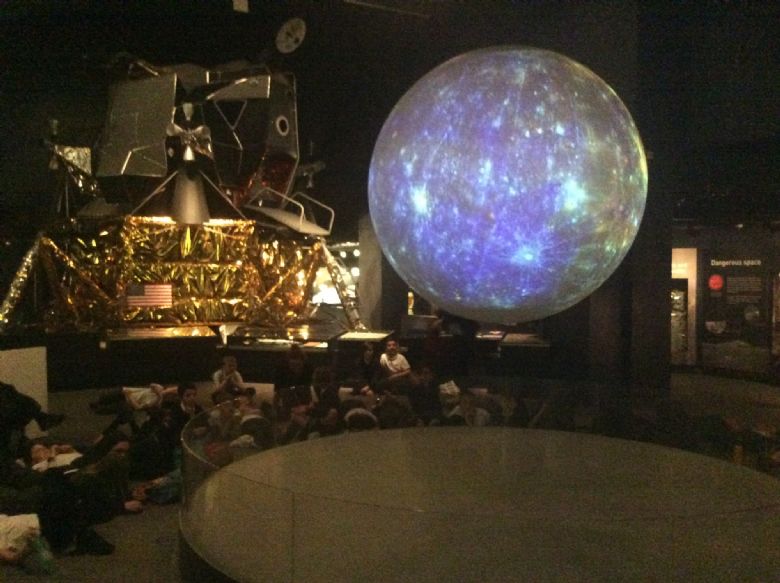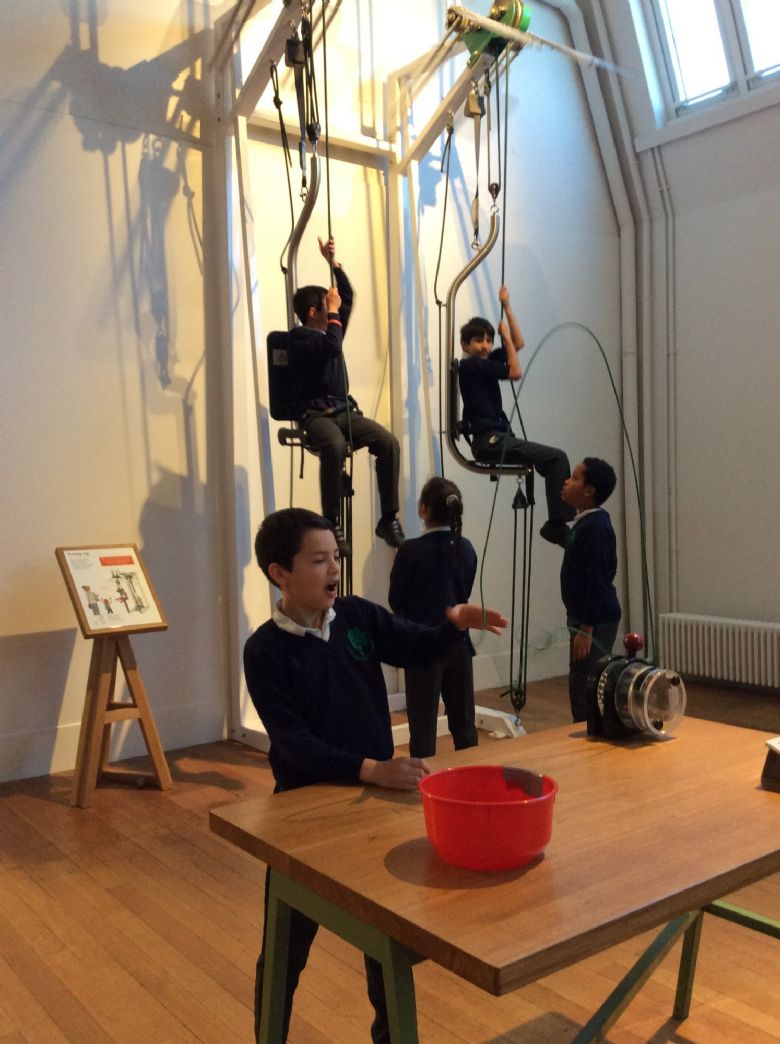 RE: Sikhism
In RE, we have been learning about the commitments Sikhs make to their religion by following the 5Ks. Eagle Class thought about how our class shows commitment to our school and drew a symbol to represent it. Many of the children chose symbols that included ideas about how we show respect and kindness towards each other at Darell.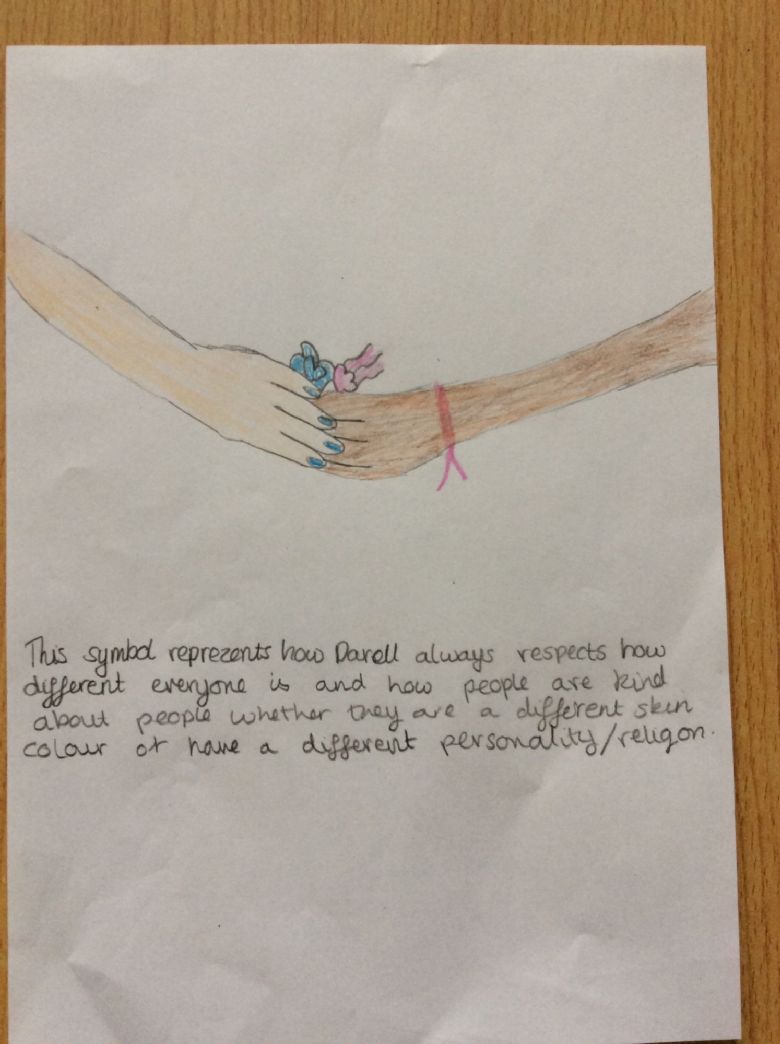 Science: Making the Solar System
We have been learning about the different planets in our solar system and the distances between them. At the park, we used toilet roll to measure the distances between the planets and were surprised at how far away Neptune was from the sun!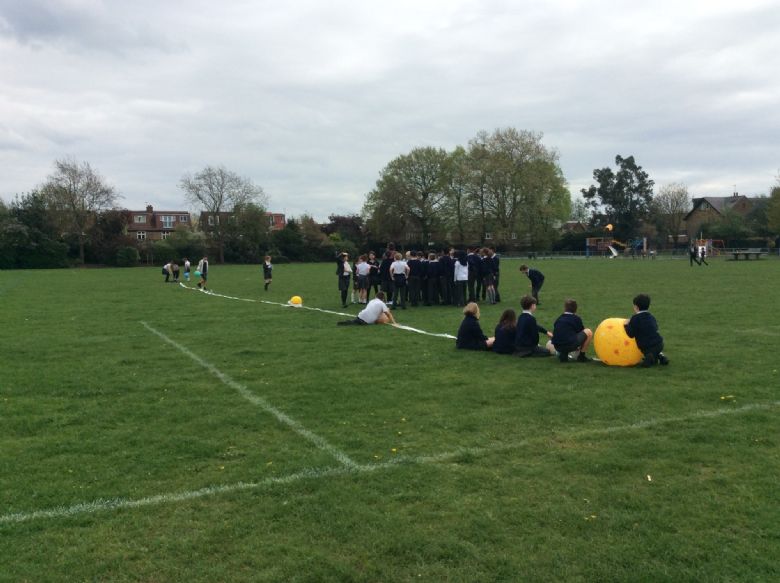 Do you have what it takes to be an astronaut?
Eagle Class are already enjoying their new topic: Space! This afternoon they found out what training astronauts went through and then tried some different activities. They were tested on their ability to build things in zero gravity (did you know astronauts practise under water?), team work and fitness levels. There may be a few future astronauts in Eagle Class!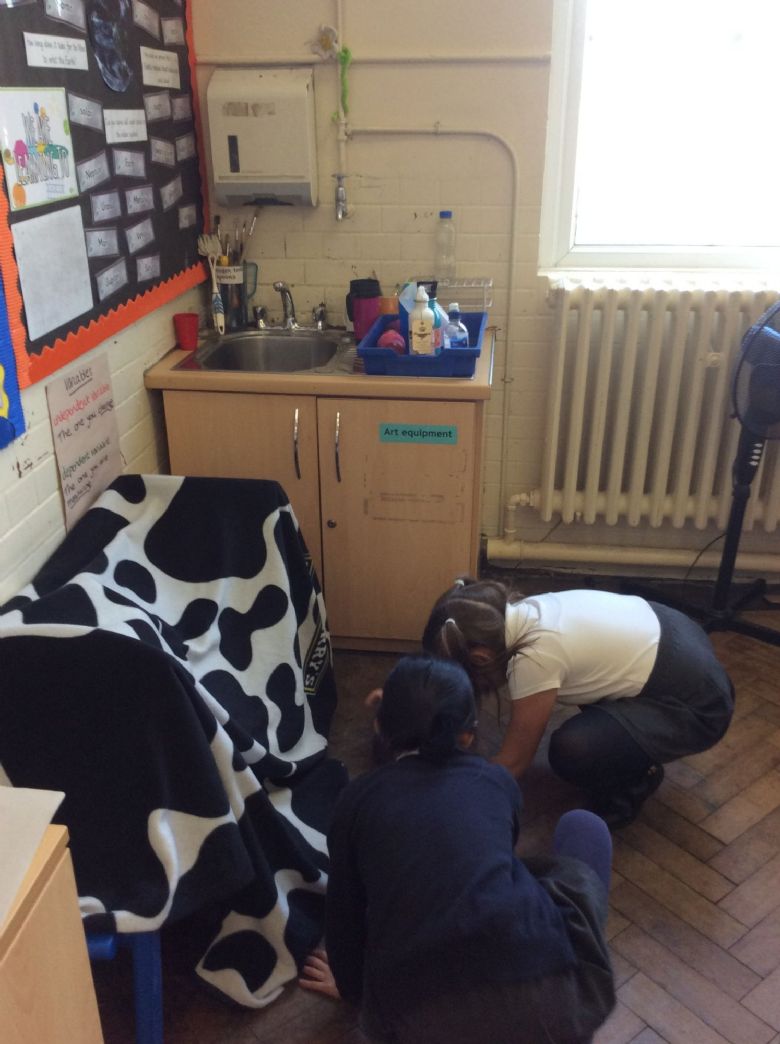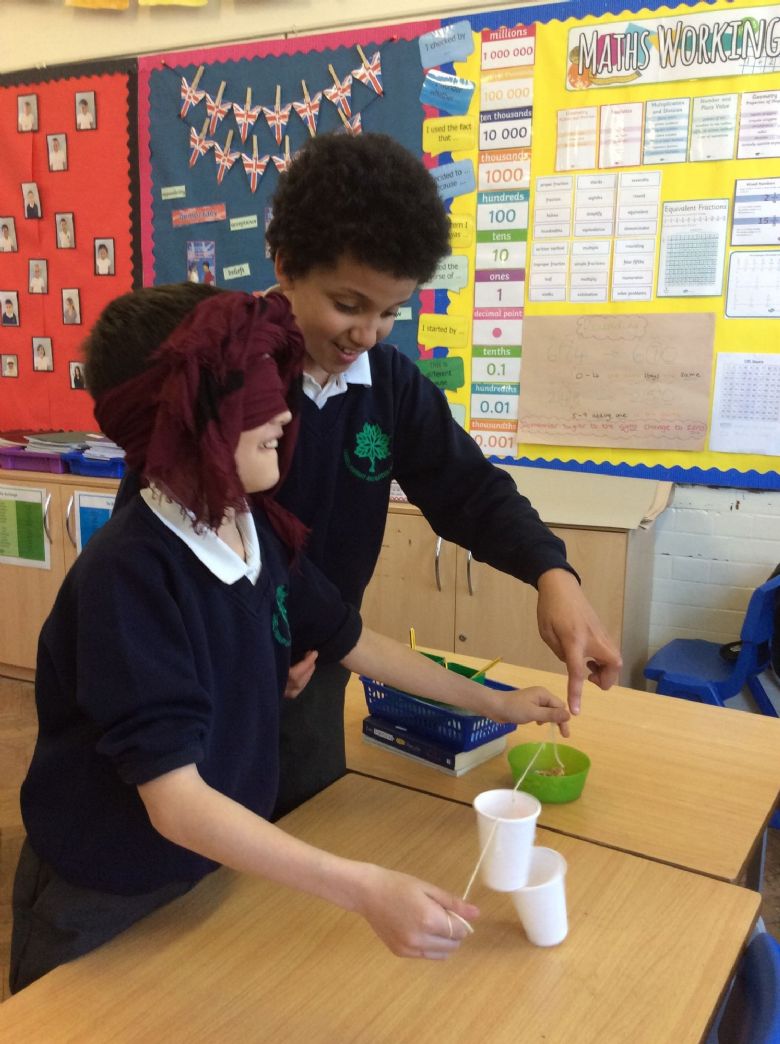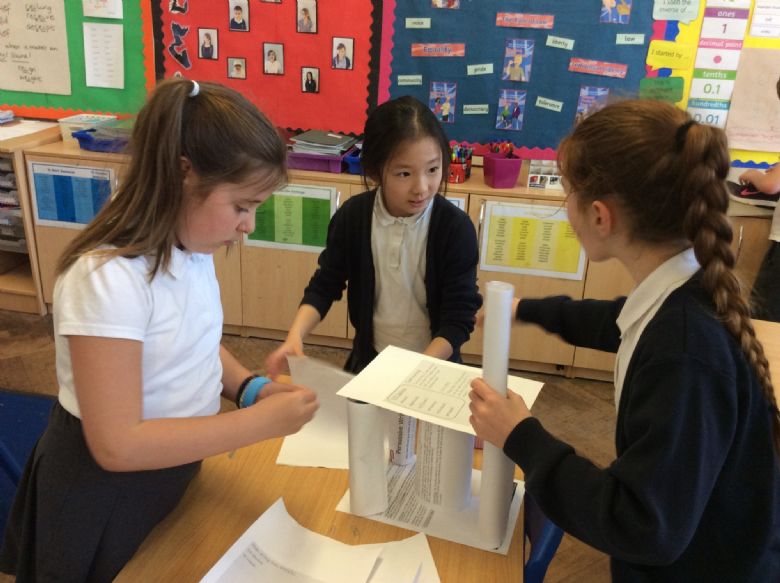 World Book Day
Eagle Class have been enjoying Readathon and have risen to the challenge of reading the Top 100 books for Year 5 and 6 children.
Have a look at all the book characters they came dressed as for World Book Day!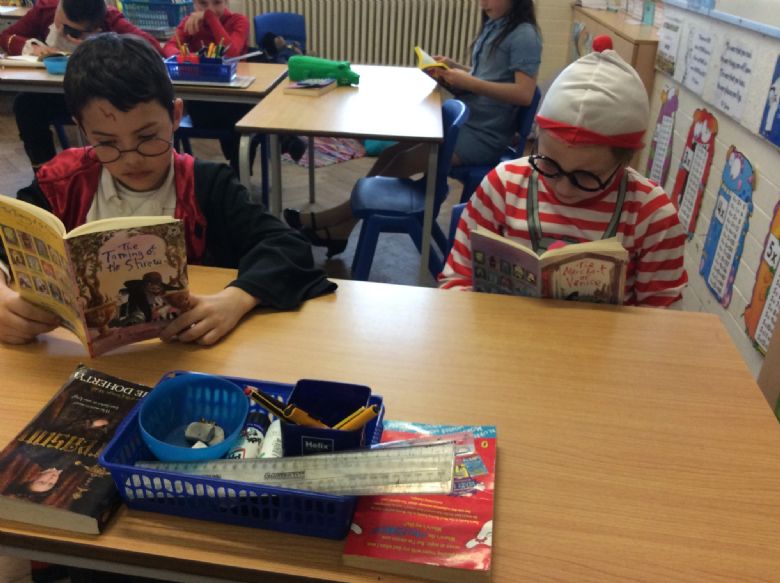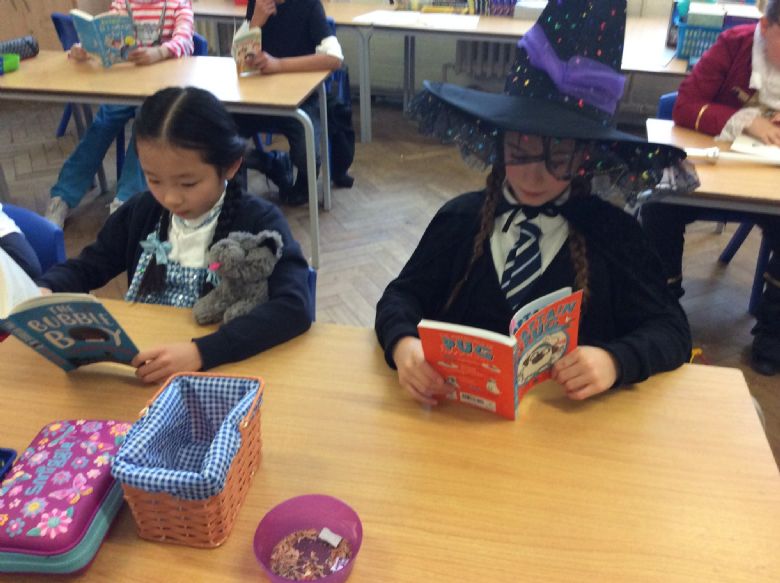 SNOW!
What a treat to have so much snow to play in! Eagle Class enjoyed making snow angels and snowmen at the park.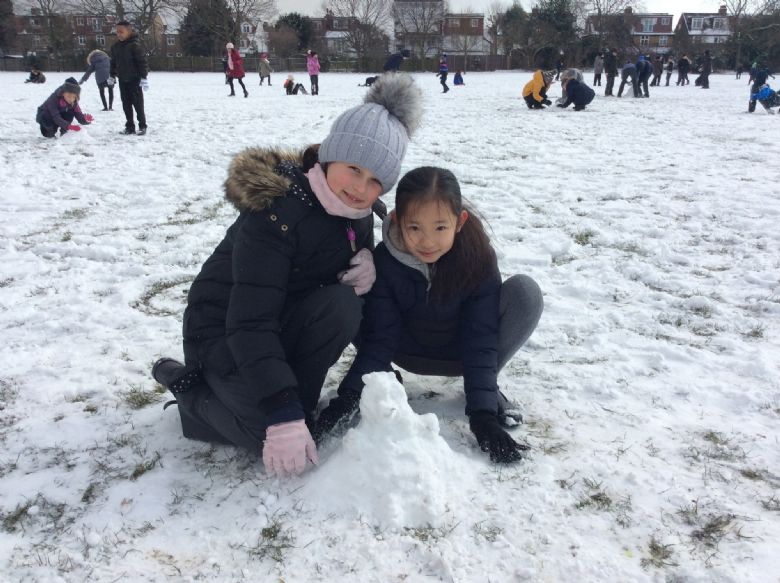 History: King Henry VIII
Did you know that Henry VIII was 6'1 tall and had a waist of 52"? We had great fun measuring and drawing our own life-size version of King Henry! Afterwards, the children wrote on post-it notes ideas about his personality and things that he would have said.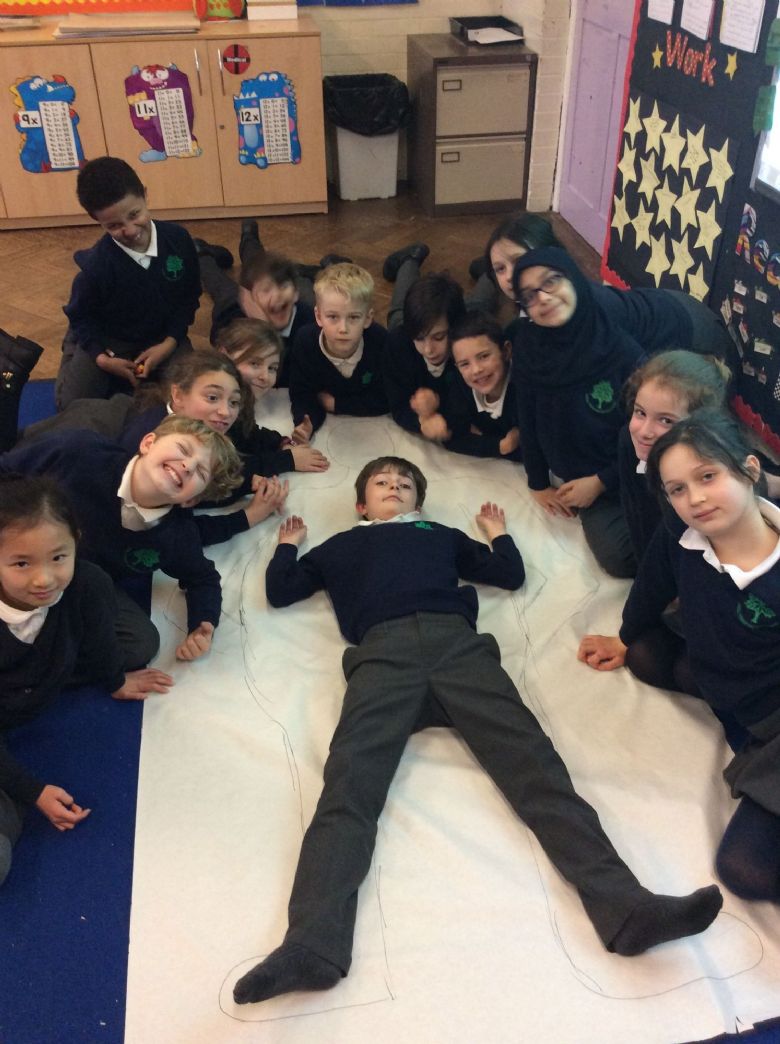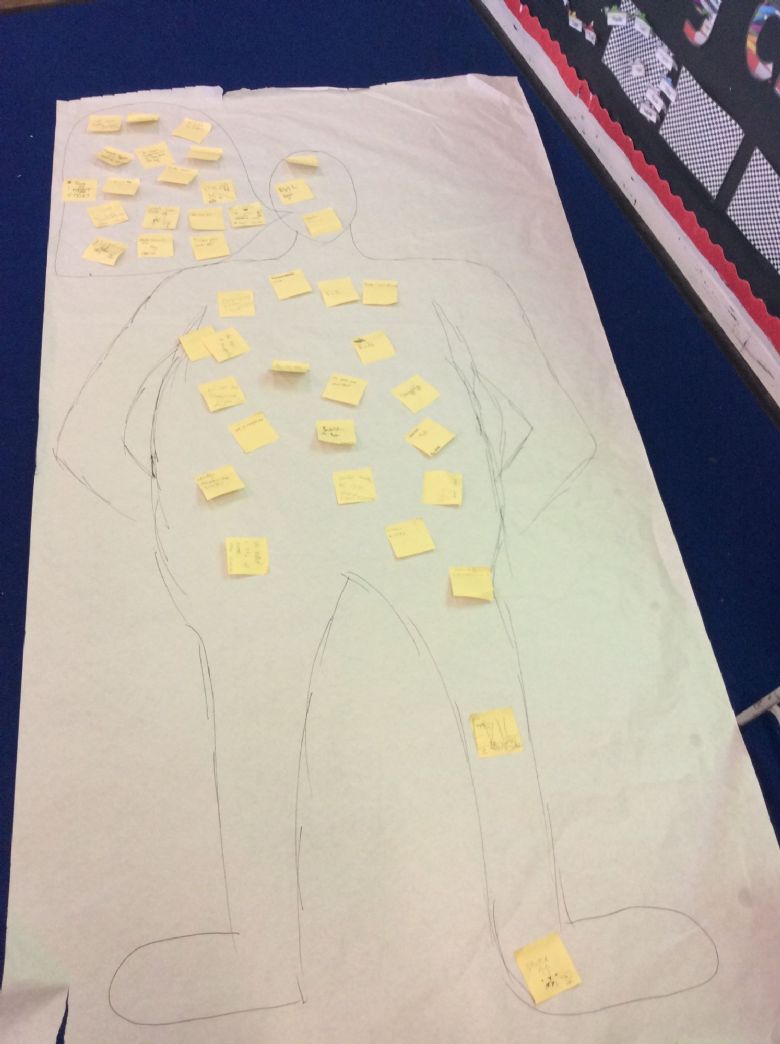 Tudor Drama Workshop:
The hall was transformed into Hampton Court Palace as Year 5 had a drama workshop as part of their Tudor topic. The children were set to work as servants in the kitchen at Hampton Court, preparing for one of King Henry VIII's weddings! Their skills were tested by cleaning, baking pies and doing the laundry.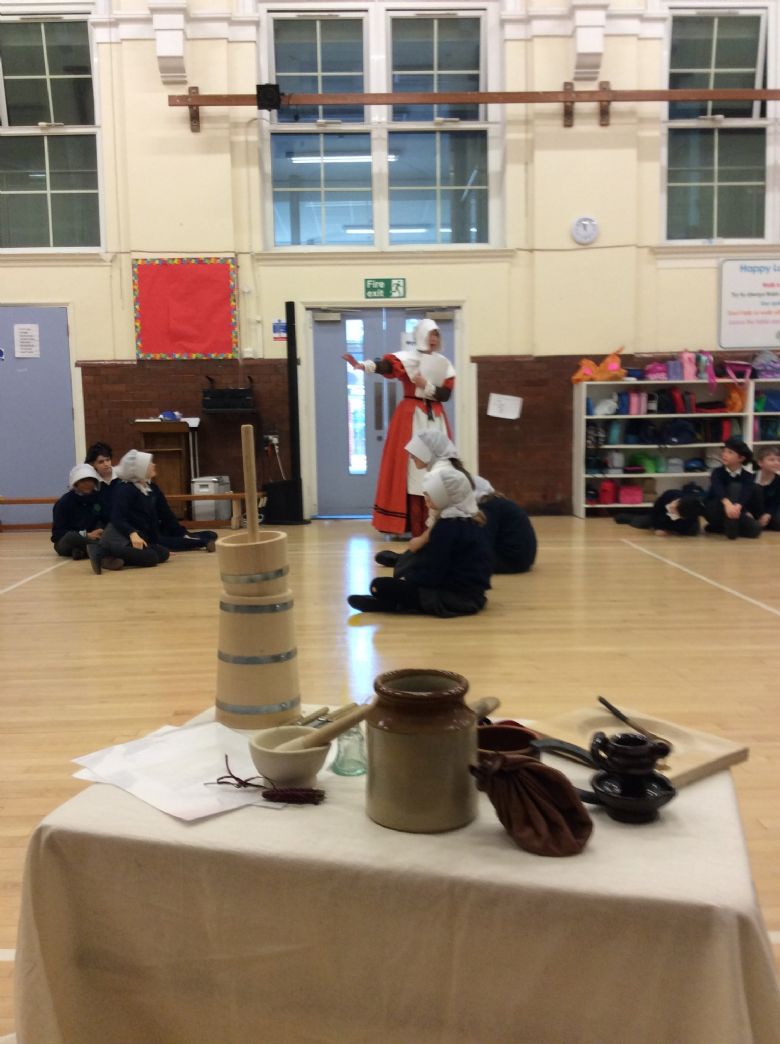 Science: Investigating Dissolving
Eagle Class have been tasked with finding out all they can about reversible changes! First they spent some time investigating how well different substances dissolve to form a solution or mixture, before separating them using sieving, evaporation and filtering. They imagined how they could use the information to stop King Henry VIII from being potentially poisoned!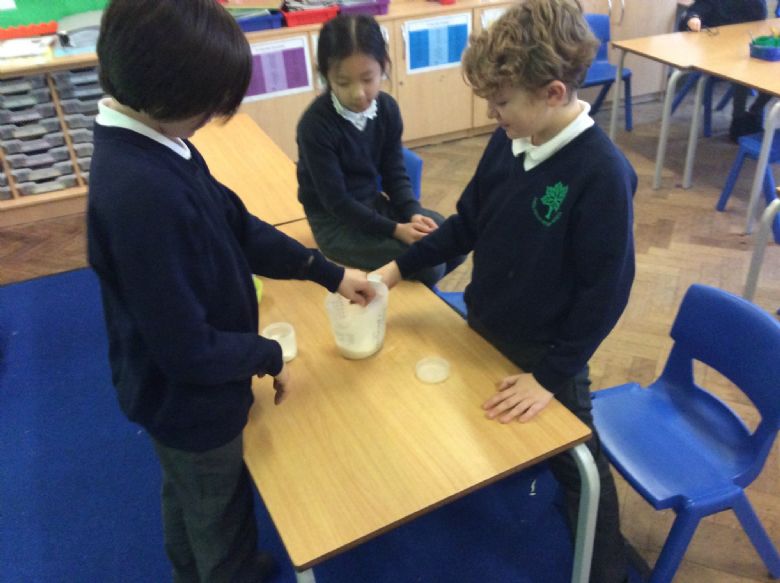 English: Freeze Frames
Eagle class have been enjoying reading our new class text, Treason. They have been imagining how the main character, Will, would react to some surprising news delivered by his father. The children tried hard to focus on what the characters' facial expressions and body language would look like. Afterwards they imagined how each character was feeling and we did some thought tracking, where they shared their thoughts aloud. All of this inspired some wonderful creative writing about how Will's sister, Margery, would react to a piece of disappointing news.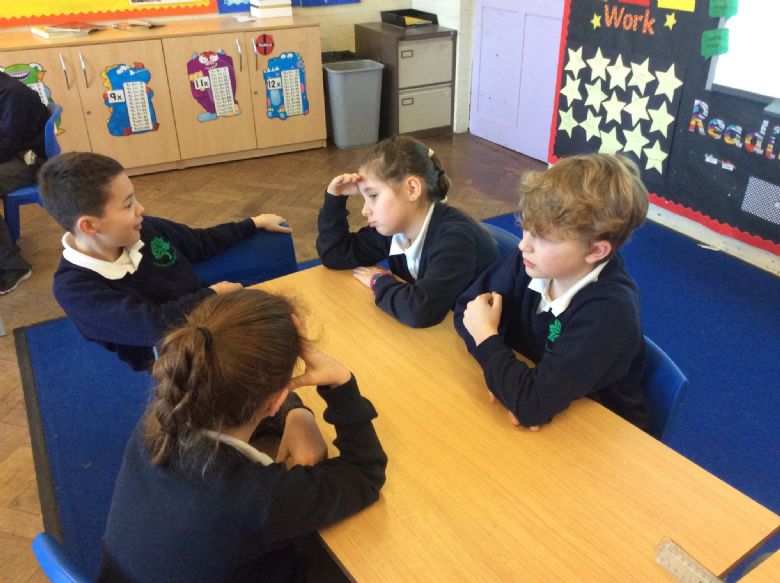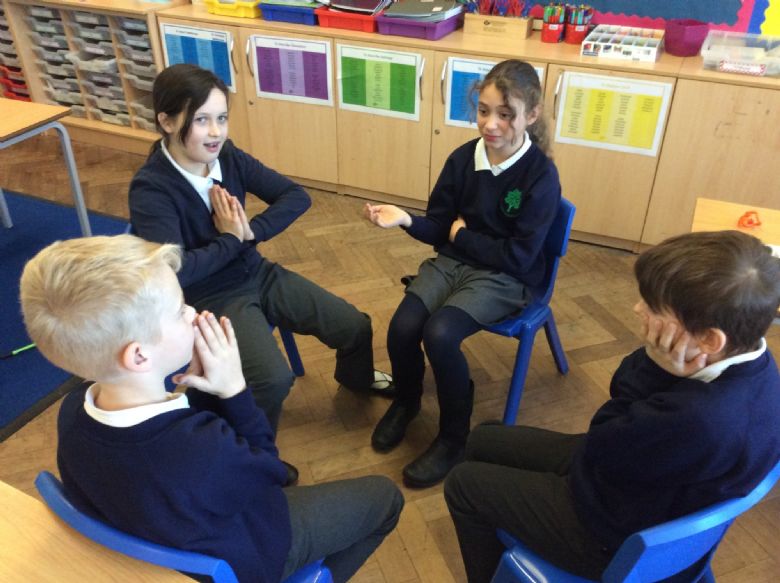 Trip to Richmond Palace & The Alligator's Mouth Bookshop
We enjoyed our local trip to see the remains of Richmond Palace. When we got there, some children were surprised to see how little of the existing palace was left! After some discussion about what the remaining parts used to be and what might have happened for so much to be destroyed, we spent some time sketching the remaining buildings.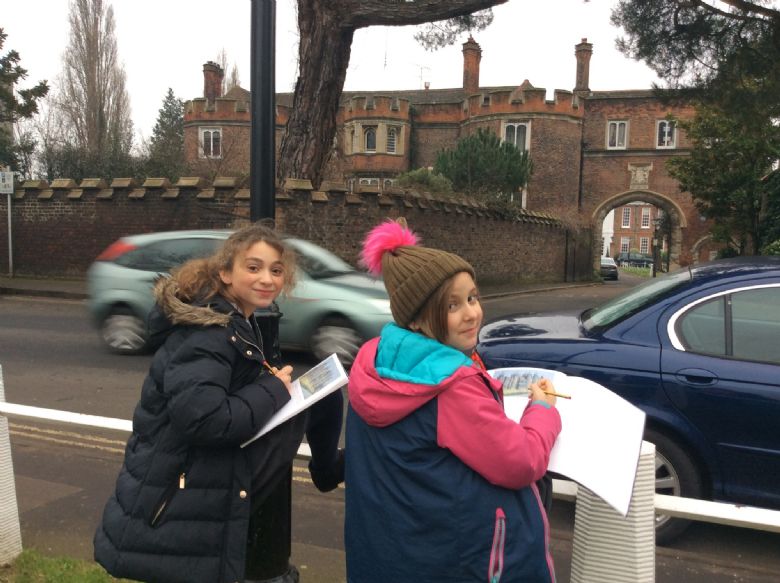 Our next stop was The Alligator's Mouth Bookshop where the children enjoyed hearing recommendations for some new reading material and were lucky enough to hear a special reading of our new class text, Treason.
D&T: Alchemy Island Board Games
Eagle Class enjoyed creating their own board games based on Alchemy Island. After initially testing different board games, they decided what challenges they wanted to include in their own board games (without making it too difficult!) Then they spent a creative few weeks using Modroc and poster paint to create their own 3D island (with some children even challenging themselves to include a working electrical circuit!) We all had a fun afternoon playing each others' board games - thank you to parents and grandparents for taking the time to come in!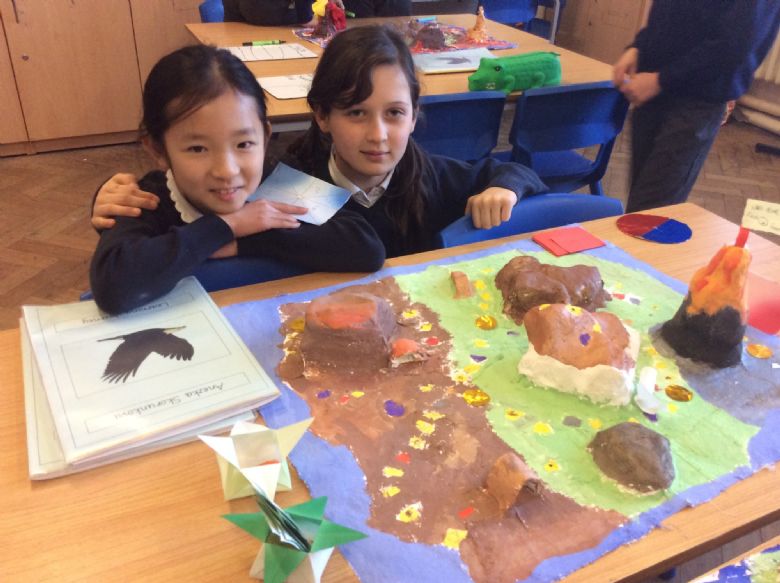 Science: Testing Materials
As part of our new topic, materials, Eagle Class were set the challenge to find the best packaging material for meringues. They designed a fair test to see whether flannel, cotton, bubble wrap, cardboard or plastic would be the best material to ensure that the meringues stayed intact. They had great fun dropping the packages to see which one caused the most damage!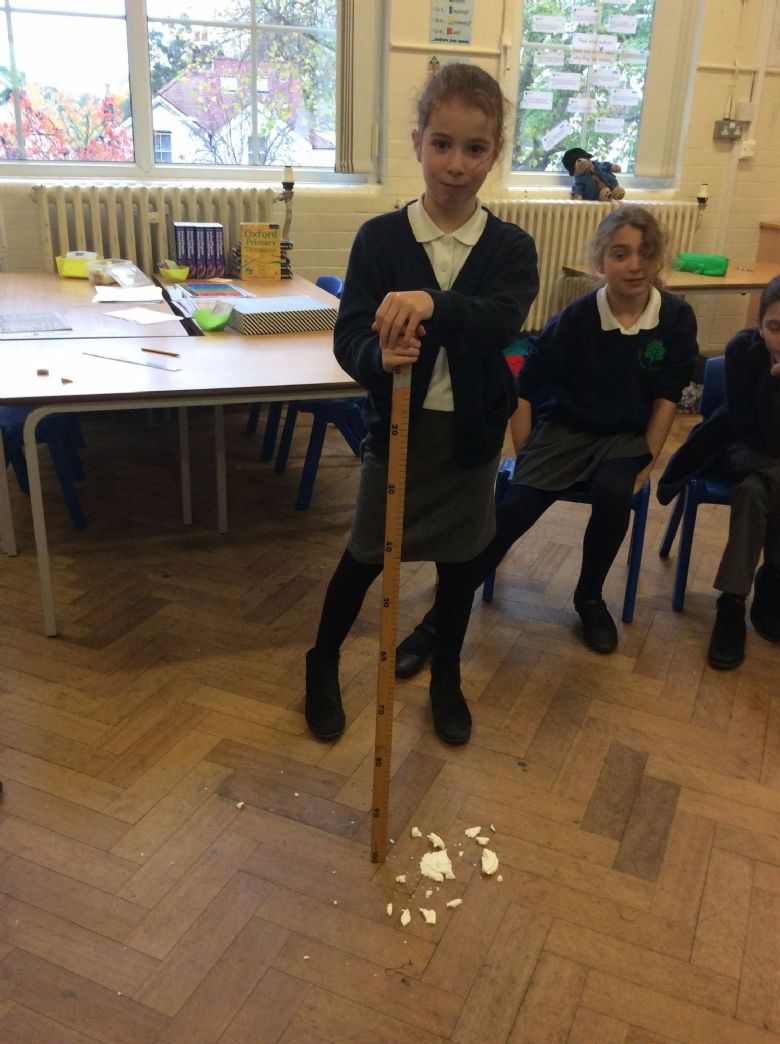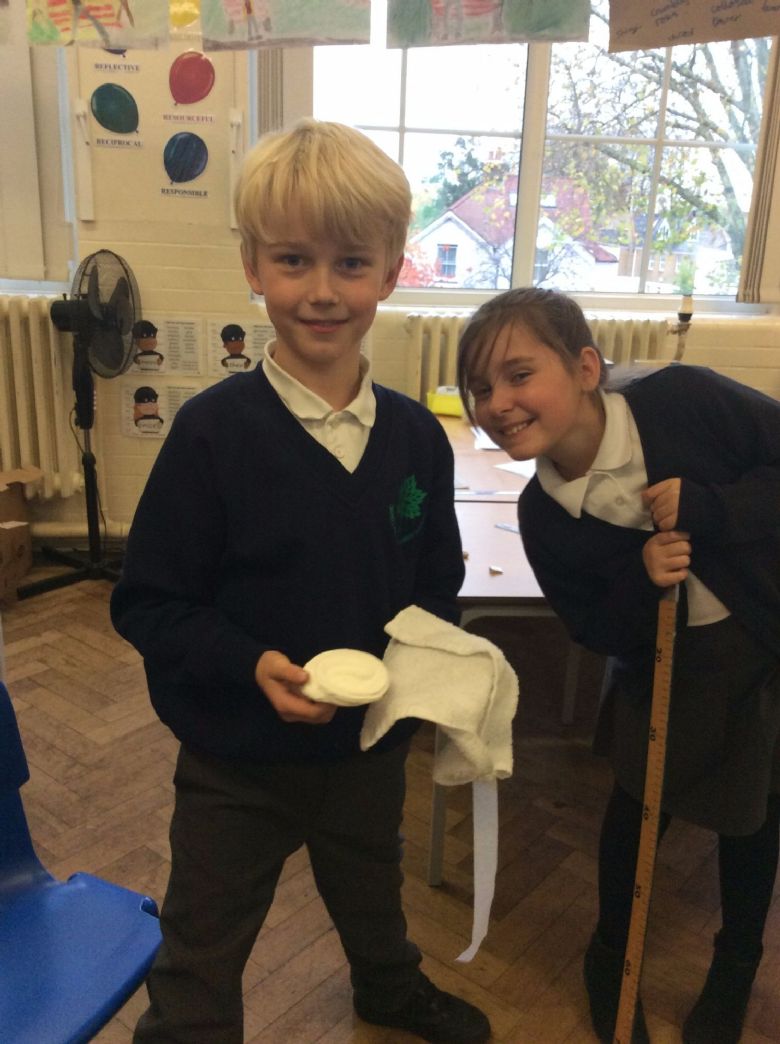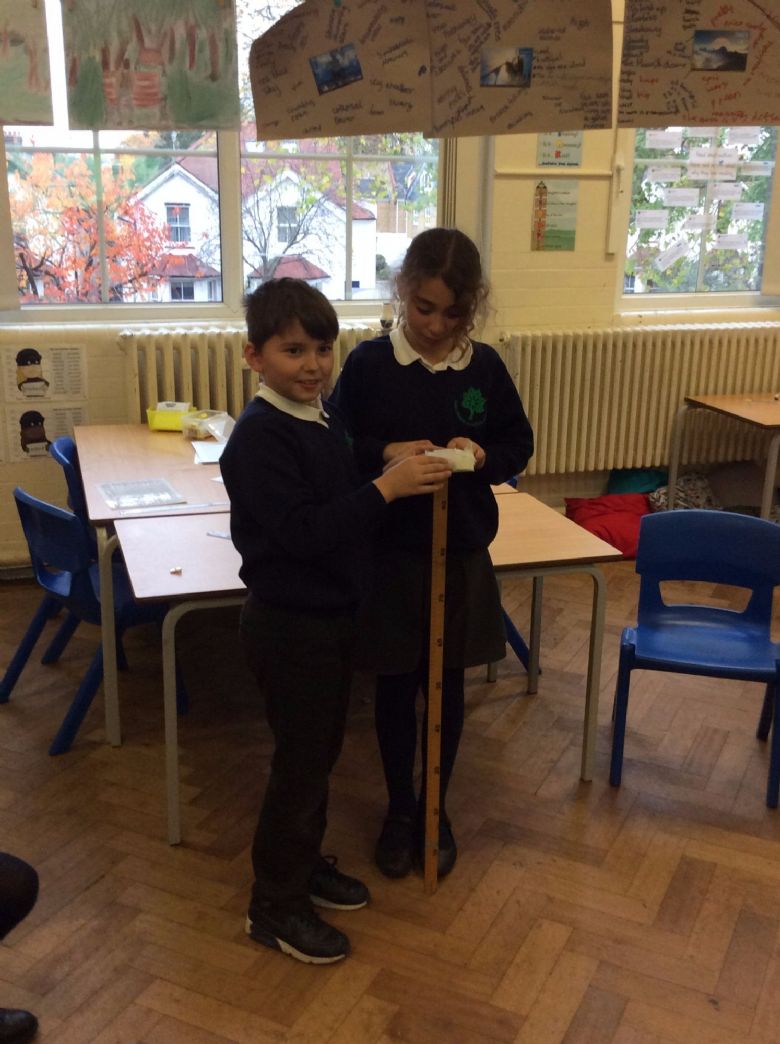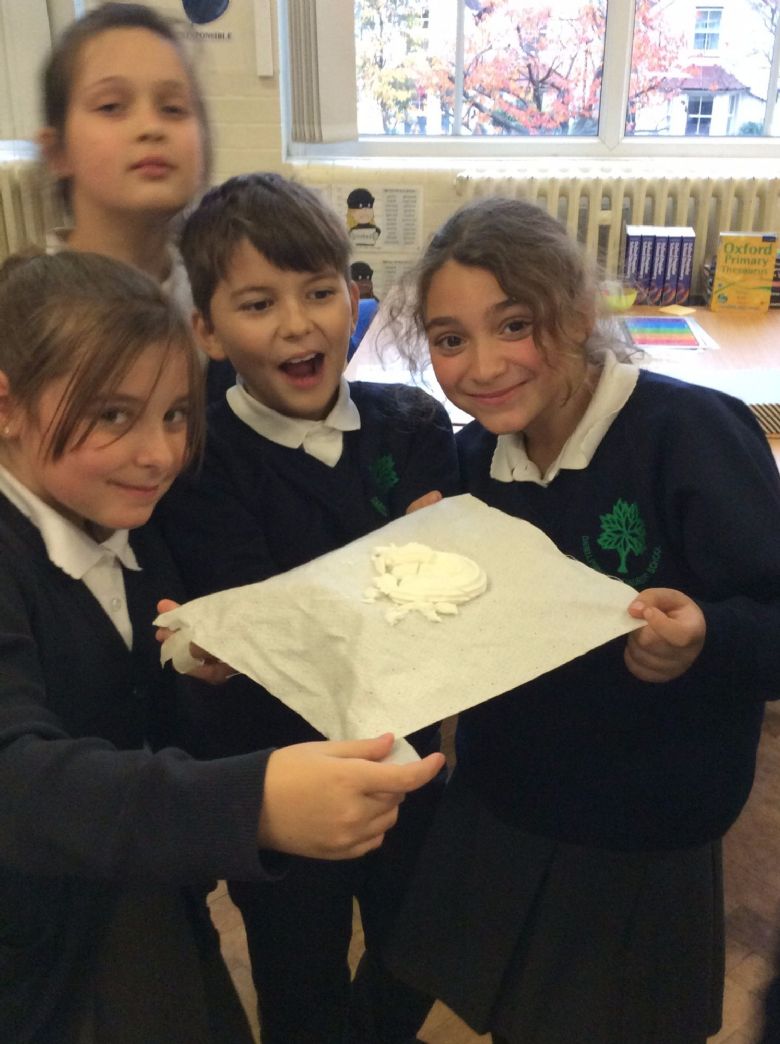 Alchemy Island: Junk Modelling
We have been enjoying learning about our new topic, Alchemy Island. The children were tasked with creating their own versions of the island in groups, thinking carefully about the different geographical features!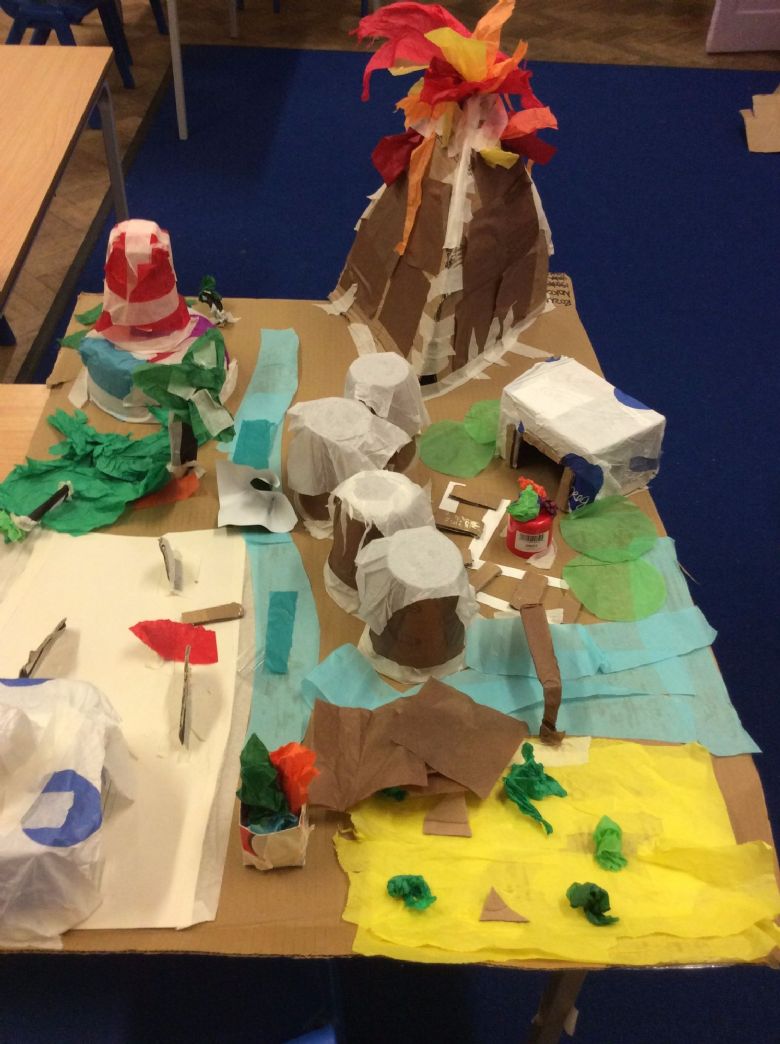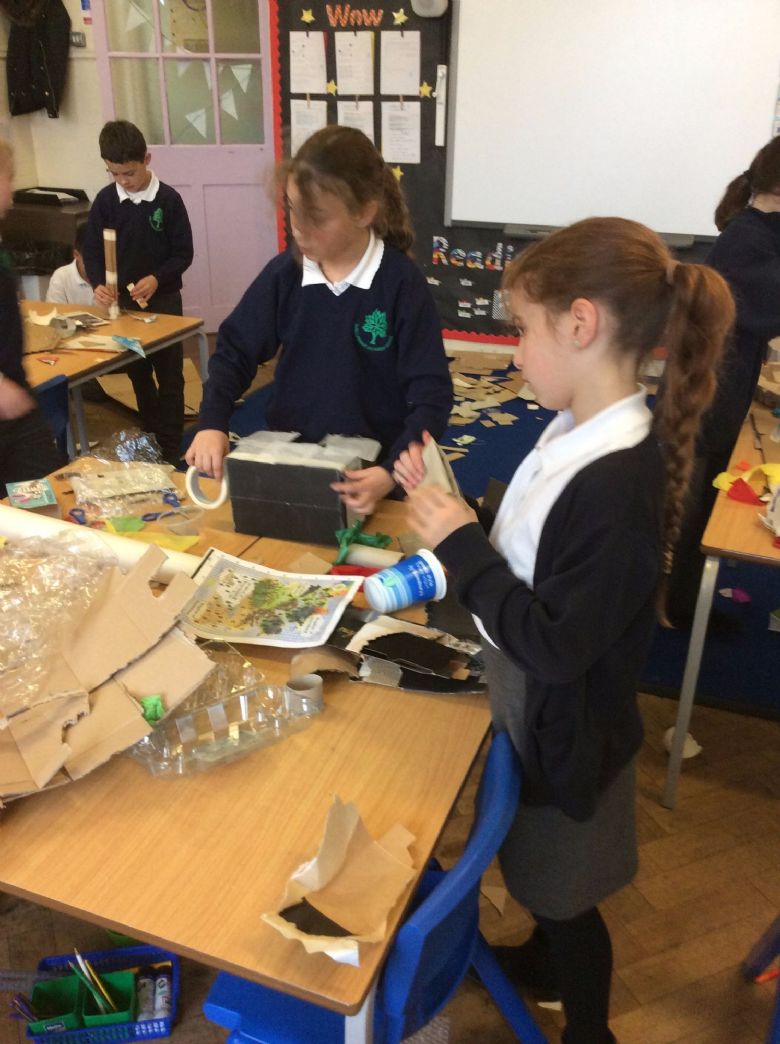 D&T: Pie Making
Eagle Class all became star bakers this week as the designed and created their own pies, inspired by 14th century kings and their feasts! Each group chose their favourite meat and vegetables, combining them together to make tasty pies - the smell from the cooklng room was incredible! They enjoyed the opportunity to add their unique design to their pie crust afterwards. There are certainly some talented chefs in Eagle Class! A big thank you to the parents who gave up their time to help us create such delicious pies.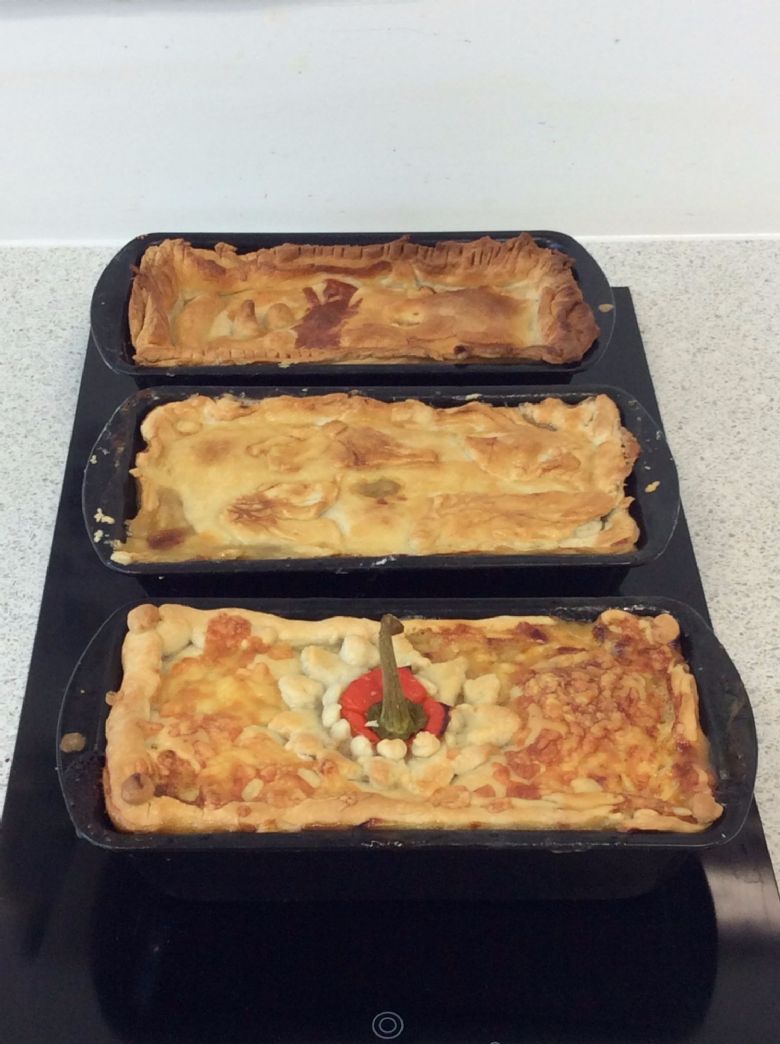 Spelling Games
Eagle Class have been practising their spellings today by playing a spelling game. After rolling a die, they had different challenges to help them remember their spellings!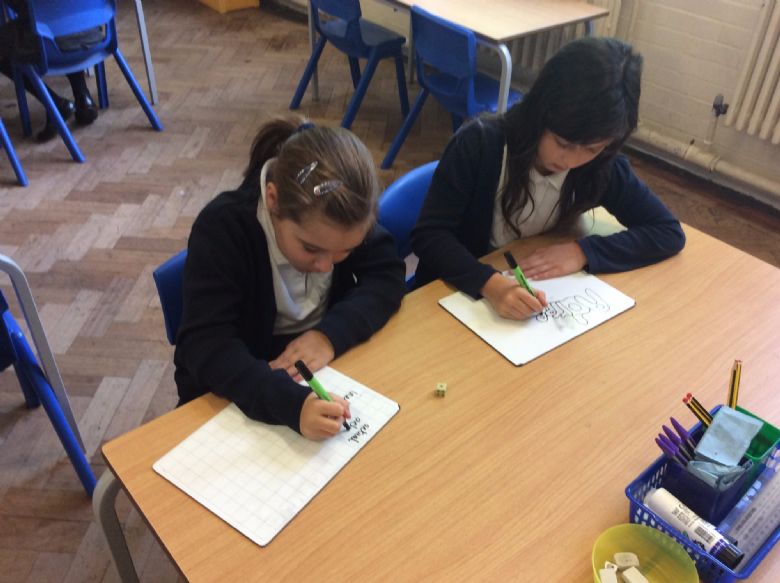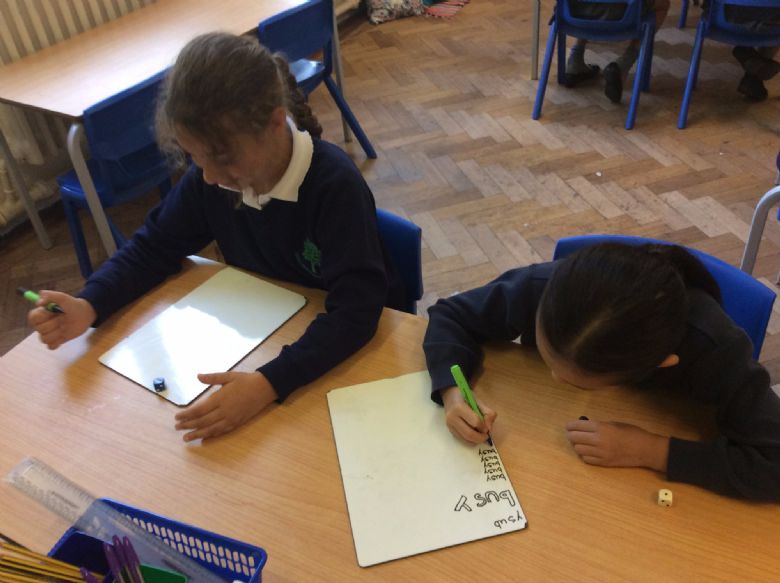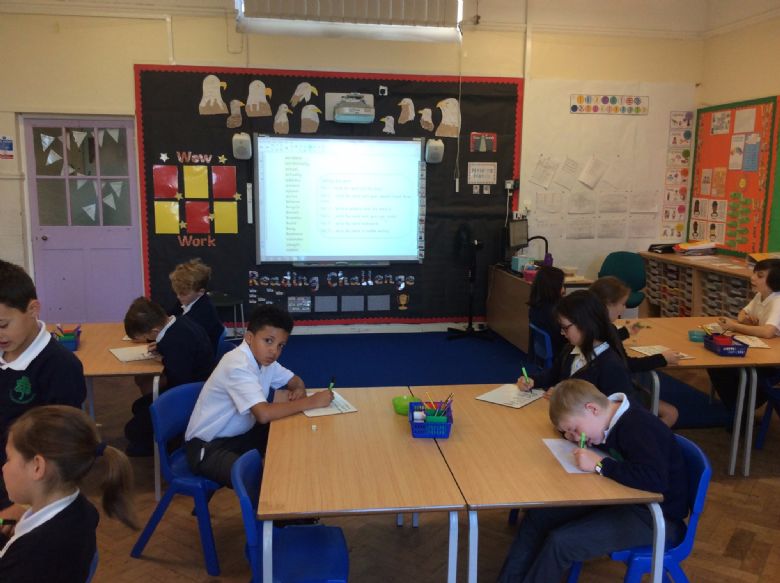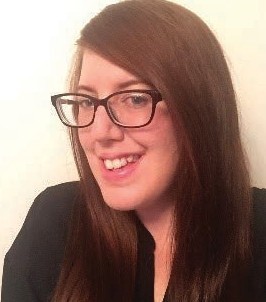 Welcome to Eagle Class. My name is Mrs Gray and I'm excited about my new position here at Darell. I've been teaching for five years and have taught Year 5 for the past three years. I'm looking forward to meeting you and getting to know your children better.
You will be receiving the half-termly curriculum newsletter at the beginning of next term, which will detail the specifics of the curriculum and key dates. You will also have a chance to 'Meet the Teacher' at the beginning of September. We very much hope you will all be able to attend. This will be an opportunity for you to hear about the expectations this year, as well as how you can help support your child and the school.
In September, we will be sending home the Home/School Agreement for you to read, sign and return; a 'Good to be Green' Behaviour booklet; and a Practical Guide for Parents at Darell.
I look forward to working with you next year. If you have any concerns or questions, please come and see me after school or contact the office for an appointment.
Mrs Gray